This article will inform students of the ways they can access supplemental material in Learning Tree.
Searching for Supplemental Material in Content
TIP: If you feel you are struggling to understand a concept, the steps below will help you to locate materials to supplement your learning.
If you have identified the need for supplemental learning materials, you can search for these materials by selecting Content from the Resources drop-down menu in the Main Menu.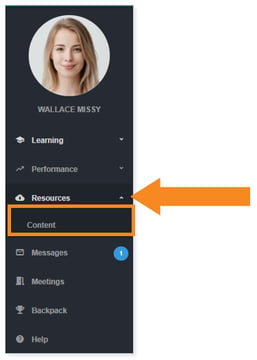 In Content, you can use the elastic search to filter down results from Open-education Resources (OER) to which your school is subscribed.
NOTE: You will not be able to access Lincoln Learning Objects which include Teach Its, Watch Its, Read Its, etc.
Begin your search by typing in a keyword associated to your topic into the Enter text to search field and click Go.
Next, use the elastic search to narrow your results.

Elastic Search Fields
Using the elastic search, you can filter your results by:
| | |
| --- | --- |
| Subject | Filter by subject matter |
| Grade | Filter by grade level |
| Standard | Filter by standard |
| Publisher | Filter by the publisher of the activity |
| Provider | Filter by the provider of the activity |
| Average Rating | Filter by average user rating (0-5 stars) |
| Resource Type | Filter by the OER-created label |
| Media Type | Filter by the OER-created file format |
| DOK | Filter by difficulty level |
| Collections | Filter by the OER-created category |
| Publish Status | Only applies to OERs where FocalPoint is the provider |
| Topic | Filter by topic |
IMPORTANT: To filter your results, use Subject, Grade, Standard, and Publisher for the most effective search. All other filters will not be helpful in helping to narrow down your results.
TIP: Make sure you have the correct item by clicking on the activity's hyperlinked name to preview its details and launch it.

Sample Search
You can layer the elastic search fields to help narrow down your outcomes. Below is an example of how you may do this.
Let's say you are searching for resources associated to Plot. Entering text to search without using the elastic search fields will render too many options.

Let's begin to narrow the results using the elastic search fields by first choosing a Subject.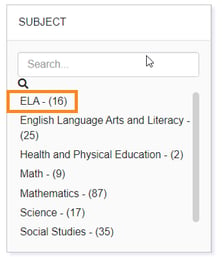 Next, let's say you want to see all the activities associated with plot for 8th grade. You will want to use the elastic search fields to choose Grade 8.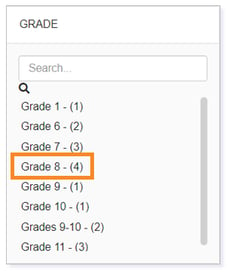 This will produce a manageable list of items ready for you to preview and access for supplemental learning.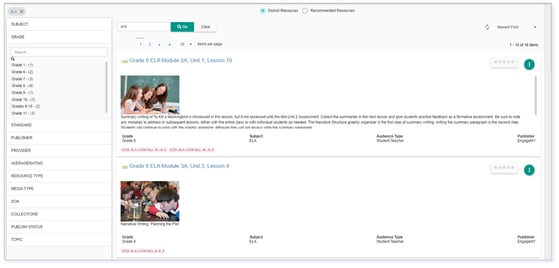 Remember, you can click on the hyperlink to preview the details and launch the activity.

Accessing Supplemental Material in the Documents Tab
IMPORTANT: You will only see the Documents tab in your community if the teacher has applied it.
As you work through your content, teachers may want to add optional supplemental material, such as practice tests, in their communities.
In your community, navigate to the Documents tab.
NOTE: If you see a number in a blue circle on the tab, this means there are new documents to view.
Open the teacher-created folder to see the added documents.

To view a document, click the Download File icon on the document name.

After the file has been downloaded to your computer, click on the arrow on the file and open it.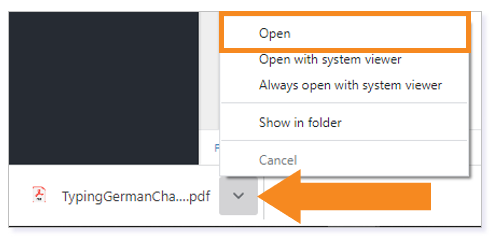 Please note, the images that may be found in this resource may not match your screen.
This is a Lincoln Learning Solutions product. Access/features may vary based on client contract.
© 2023 Lincoln Learning Solutions. All rights reserved.