This article explains how to add and remove data grid columns in the Explorer screen using the Column Chooser tool.
NOTE: EXPLORER includes a Column Chooser tool that allows you to select which columns you wish to have visible in a data grid, letting you personalize the display and customize data for exporting and reporting. Click here for a video tutorial that contains more information about the Column Chooser tool.
From My Dashboard, navigate to EXPLORER.

To activate the tool, click the Column Chooser icon.

A modal (pop-up window) displays. Scroll down in the Column Chooser modal to see more options.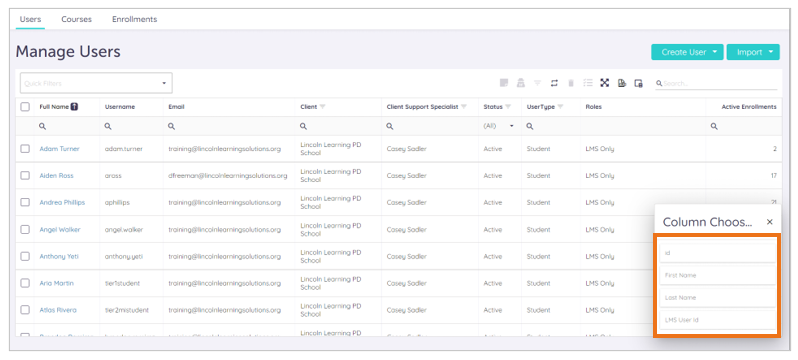 TIP: Commonly used columns are IEP/504, Last Login, and Grade Level.
To add a column to the data grid, drag it from the box to your desired location on the grid. To remove a column and hide it from view in the data grid, drag the column by the header name to the Column Chooser box.
TIP: To close the Column Chooser tool, click the X.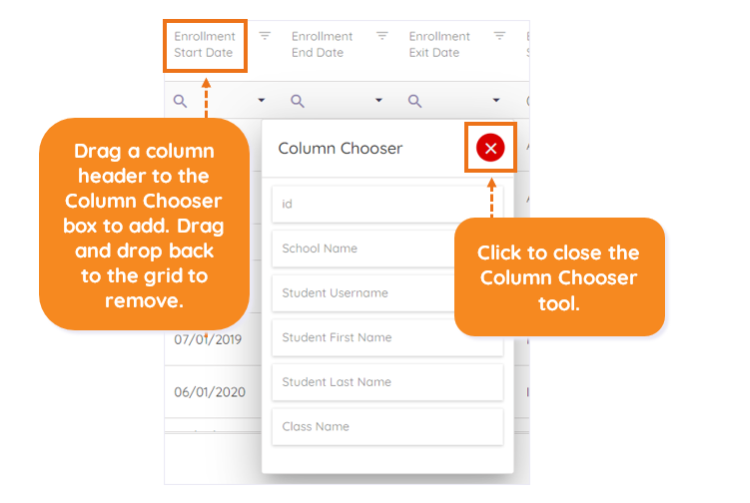 TIP: To rearrange the order of columns on your data grid, click the appropriate column header and drag it to your desired location on the grid.
To restore the grid, click the restore default table settings icon.
Please note, the images that may be found in this resource may not match your screen.
This is a Lincoln Learning Solutions product. Access/features may vary based on client contract.
© 2022 Lincoln Learning Solutions. All rights reserved.