Course Tools and Features
Allowing Downloads from Buzz in Google Chrome
This article explains how to allow downloads from Buzz when using Google Chrome.
When files try to download from within Buzz, if you click Don't allow downloads in the dialog box, you will see this icon in Chrome.

Click the icon. In the pop-up window, click the Always allow radio button to allow downloads from Buzz. Then, click Done.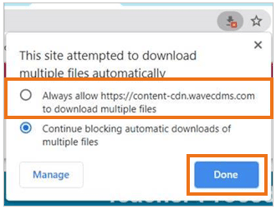 Please note, the images that may be found in this resource may not match your screen.
This is a Lincoln Learning Solutions product. Access/features may vary based on client contract.
© 2021 Lincoln Learning Solutions. All rights reserved.