This article highlights tips for submitting both online and upload-style assessments.
TIP: Click here for additional written directions.
NOTE: To view the above resource in a new window, click here.
ONLINE ASSESSMENTS
When you open an assessment that contains a Start button, always read the instructions.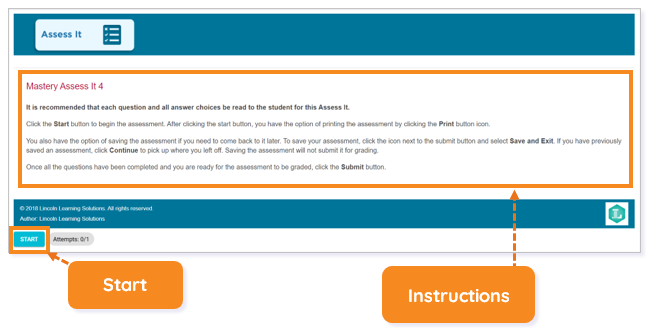 These types of assessments may include multiple choice, multiple answer, matching, short answer, essay questions, and more.
For additional support with each question type, watch the How to Submit an Online Assessment video.
NOTE: When you are ready to begin the assessment, click the Start button at the bottom left corner of your screen.
While working on an assessment, you may use the bar at the bottom of your screen to navigate through the assessment. You can use the PREVIOUS or NEXT buttons to page through the assessment.

To return to the instructions, click the i icon in the upper right corner.

Click CONTINUE to return to the assessment.

Submission Options
When you are ready to submit an assessment to be graded or scored, simply click SUBMIT ALL ANSWERS.

You can save the assessment and come back to it later. To do this, simply click the SAVE & EXIT button. Your teacher will not score your assessment until you click Submit.

A SAVE & EXIT assessment shows a CONTINUE button instead of a Start button when you return to finish or submit your assessment.

UPLOAD ASSESSMENTS
An assessment that requires you to submit a file with your work is referred to as an Upload Assessment. You will see a plus sign in the submission area where you can choose the type of file you would like to upload.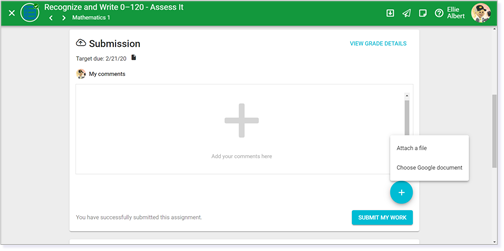 Watch Submitting an Upload Assessment: Video for additional support.
Submission Options
You will have the option to select either Choose Google Document or Attach a file when uploading your document.
Once you choose your file, you may add comments for your teacher in the Comments field.
IMPORTANT: Your submission should not be provided in the Comments field unless the directions say to do so.

NOTE: You must click the SUBMIT MY WORK button to send your assessment to your teacher. If you are not ready to submit your assessment, you can click the X and return to it later.
GOOGLE DRIVE TIPS
You have the option to submit files from your Google Drive to your teacher.
For more information on submitting assessments using Google Docs, click here.
IMPORTANT: Remember, you must set your sharing permissions correctly in order to submit files from your Google Drive. If you are enrolled in a course with Lincoln Learning Solutions Teachers, try creating a Lincoln Folder and sharing this folder with studentwork@lincolnlearningsolutions.org. This will ensure all of your teachers have access. Within this folder, you can create subject folders for each of your classes.
NOTE: This is not your teacher's email address. Try checking your course Landing Page for the correct email address to contact your teacher.
TIP: For more information on folder sharing, click here.
Before you begin, be sure that you are logged in to your Google Account. To do this, go to https://www.google.com/.
1. Click Sign in.

2. Type in your username and click Next.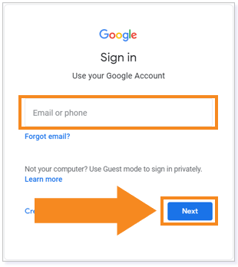 3. Type in your password and click Sign in.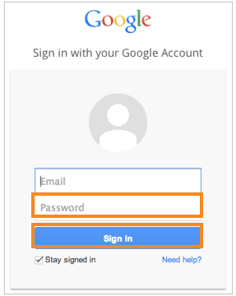 4. Select the Main Menu waffle icon located at the top right of your screen. Then select Drive.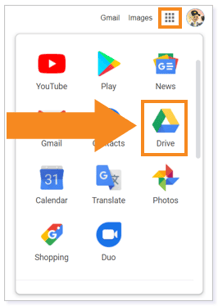 Additional Support
If you need additional support while working within Google Drive, please click the Question mark icon and select Help.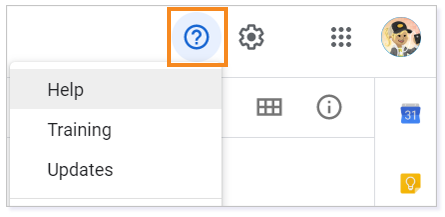 CONVERTING PDFS TO EDITABLE TEXT DOCUMENTS
As you know, your assignments should be submitted as editable text documents (preferably Word documents). You may be wondering what to do if a worksheet in an assignment is only a PDF. There are a few ways to convert PDFs to editable text documents (Word or Google Docs). Begin by downloading the PDF file.
Word on Google vs. Google Docs
There is a setting in Google Docs, found under the gear icon in the upper right, that allows you to control how your documents are uploaded.

Click Settings in the drop-down menu.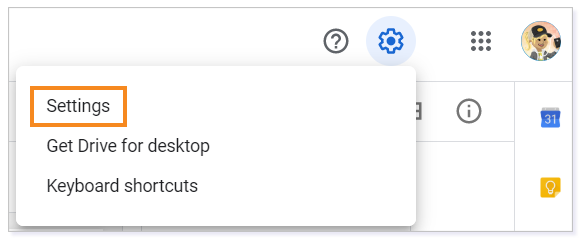 Make sure the checkbox for Convert uploaded files to Google Docs editor format is checked.
Click DONE when finished to save the settings.

Converting PDFs to Word Documents
If you have Microsoft Word on your computer, use the following steps to convert your PDF. Begin by downloading the PDF file to a place on your computer where you will be able to find it. Your Desktop is an easy location.
Once you have the file on your computer, follow the steps below:
Right-click on the PDF file you downloaded.
Select Open with

.

If you have Word, click Word

. This should open Word and a dialogue box indicating that Word will convert the PDF to a Word document.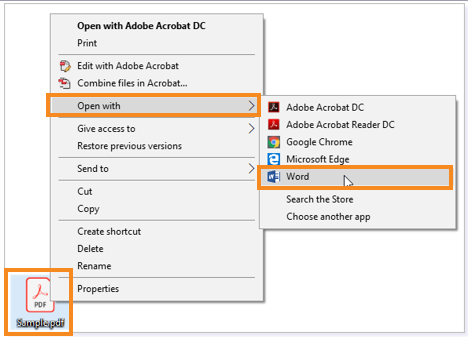 Saving and Converting PDFs to Google Docs
If you do not have Microsoft Word, you can use this method to convert PDFs to Google Docs. However, you must have a Google Account before you can use these directions.
Once you have a Google account, you will need to follow two processes.
Uploading the PDF to your Google Drive
Opening the PDF with Google Docs
PROCESS 1: Uploading to Google Drive
Click NEW.

Click File Upload.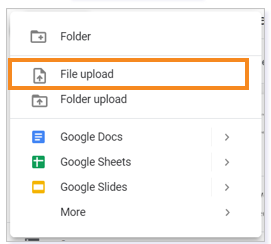 Navigate to the PDF file in the open window.
Click Open.
PROCESS 2: Opening with Google Docs
Open your Google Drive.
Click on My Drive.
Right-click on your PDF file.
Click Open with.
Click Google Docs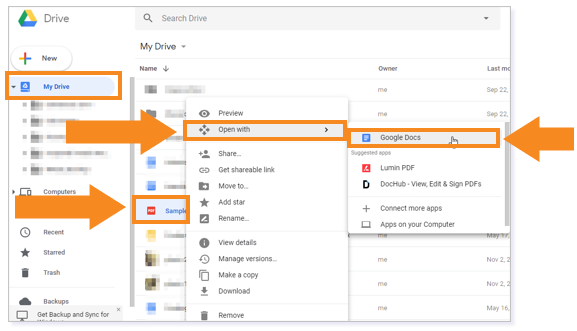 GRADES: UNDERSTANDING YOUR GRADES
Navigate to the Grades area.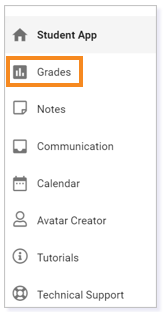 Grades is the bar graph icon.

Under GRADES, you can either choose to view all course grades at a glance, or you can view specific grade details for each of your courses.
GRADES Tab
The GRADES tab allows you to view all required assessments for your course.

Additionally, you will see your score, status, the dates you submitted your assessments, the dates your assessments need to be submitted, and your current course grade. You will also see two completion progress bars. The first bar shows your progress for gradable activities while the second bar shows your progress for all activities within the course.
Print Option
The Print option, located on the right of the top toolbar, allows you to easily print your grades.
NOTE: You may also Print specific scores found within your GRADES tab.

GRADES Icons
You may see the following icons in the GRADES tab under the Status column.
| | | |
| --- | --- | --- |
| Retry | | The retry icon indicates that your teacher is allowing you to retake the assessment. |
| Feedback | | The feedback icon indicates that your teacher has provided feedback for the graded assessment. |
| Completed | | The checkmark symbol indicates that you have completed an activity. |
| Submitted | | The submitted icon indicates that your teacher still needs to grade and provide feedback on an assessment you have submitted. When your teacher grades and gives feedback on your assessment, the submitted icon will then reflect your grade. |
Grade Details
Under the Score column, click on your assessment grade to view more specific details about it.
A pop-up window will display feedback from auto-graded and teacher-graded items, as well as related attachments.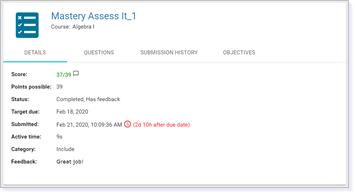 Time/Activity in a Course
The ACTIVITY tab within GRADES displays each activity you have accessed within a course. The activity details also include the activity title, when you accessed the activity, and the length of time you spent working on the activity.
The Total activity time, located at the top of your screen, shows you the total amount of time you spent within your course. Your teacher can also see your time spent on each activity.

Please note, the images that may be found in this resource may not match your screen.
This is a Lincoln Learning Solutions product. Access/features may vary based on client contract.
© 2021 Lincoln Learning Solutions. All rights reserved.