This article provides users with steps for authenticating their email in Buzz. This authentication is required for sending and receiving communications through Buzz.
TIP: Click here for additional written directions.
NOTE: To view the above resource in a new window, click here.
IMPORTANT: Please reach out to your school to confirm the email address and/or phone number used for your account creation.
WARNING: If an account is not verified, the user will not receive messages from the Buzz system.
IMPORTANT: If a user does not have access to the email account associated to their login, these steps do not apply, as the user is not leveraging the email account for Buzz communications.
Click your Avatar in the upper right corner of Buzz. Then, select Settings.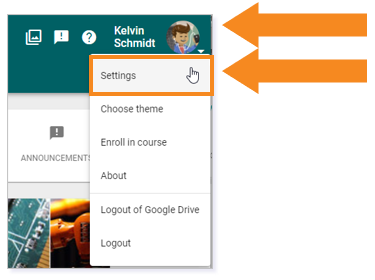 Next, click the SEND CODE in all areas that SEND CODE populates within Settings.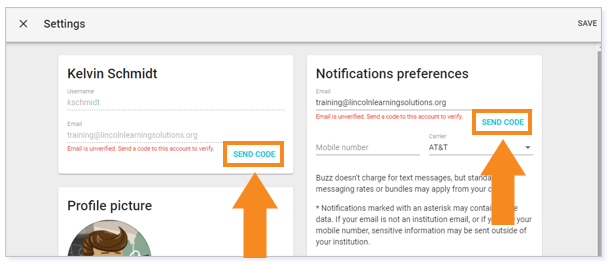 A code is sent to the appropriate locations (e.g., email accounts, phone numbers).
IMPORTANT: You must access the code within 15 minutes of clicking SEND CODE.
Once you receive the code, follow the steps to authenticate. After authenticating, refresh your browser window and check your settings again. All authenticated SEND CODE messages that have been authenticated will be removed.
IMPORTANT: If you don't see the SEND CODE option, then your email has already been verified.
Please note, the images that may be found in this resource may not match your screen.
This is a Lincoln Learning Solutions product. Access/features may vary based on client contract.
© 2021 Lincoln Learning Solutions. All rights reserved.