This resource instructs users on how to customize the layout and color of their individual Learning Tree platform.
Changing Layout and Color Options in Learning Tree can aid in accessibility for visually impaired individuals and provide further customization of your profile.
Navigating to the Customizer
Customizing both your layout and color options takes place in the Learning Tree CUSTOMIZER. To navigate to the CUSTOMIZER, select your My Profile picture in the toolbar.
From the pop-up menu, select Settings.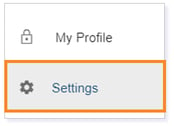 The CUSTOMIZER will populate.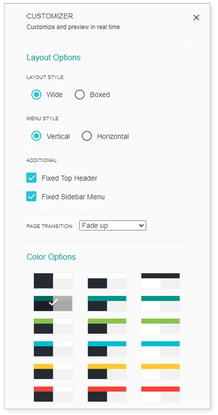 Layout Options
Within the Customizer, you have a variety of layout options which include:
Layout Style
Under LAYOUT STYLE, you can choose Wide style or Boxed style.

Menu Style
Under MENU STYLE, you can choose Vertical or Horizontal to change the look of your Main Menu.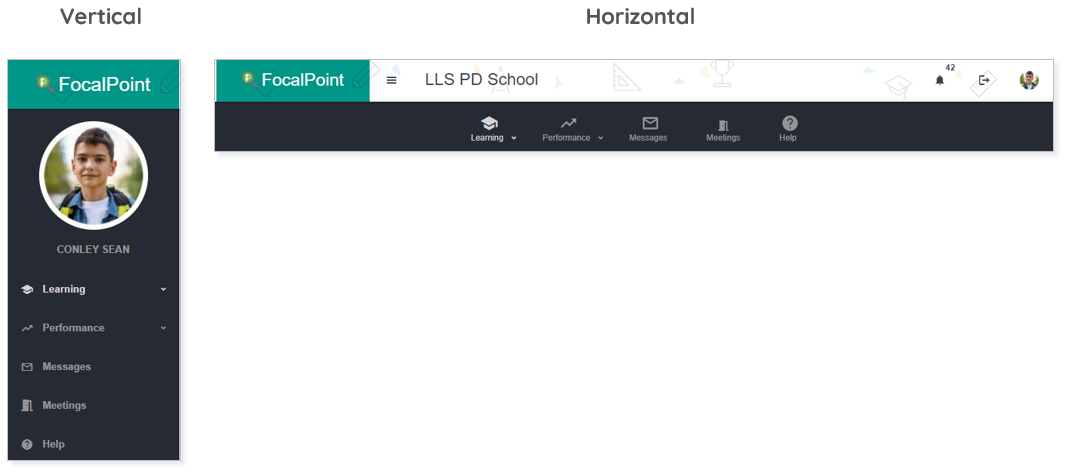 Additional
Do you want your toolbar and/or the Main Menu to remain fixed while you scroll up and down the page? You can check and uncheck one or both options under ADDITIONAL.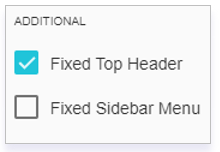 IMPORTANT: Fixed Sidebar Menu only operates in conjunction with the Fixed Top Header.
Page Transition
Using the PAGE TRANSITION drop-down menu, you can select how some pages in the platform transition from one to another. Select from Fade up, Scale up, Slide in from right, or Flip Y.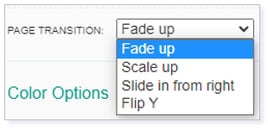 IMPORTANT: Be aware that your chosen page transition may not be applied to all pages found within the platform.
Color Options
Also, within the CUSTOMIZER, you can adjust your Color Options. Simply click on the colorway you like. Once you see the check mark, this colorway will be applied to your profile within Learning Tree.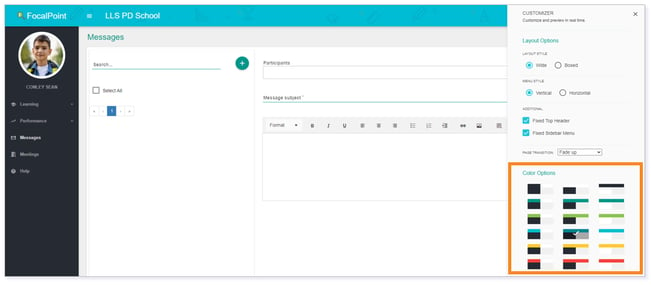 TIP: Try changing the colorway to your school colors or simply your favorite color. You can even choose a color and contrast combination to improve visibility.
Please note, the images that may be found in this resource may not match your screen.
This is a Lincoln Learning Solutions product. Access/features may vary based on client contract.
© 2023 Lincoln Learning Solutions. All rights reserved.