Filtering Columns and Clearing Filters in Pulse
This article explains how to filter columns and clear filters in data grids in Pulse.
FILTERING COLUMNS
Using the EXPLORER view as an example, you can view and filter a list of Users, Courses, or Enrollments.
In a data grid, the filtering option is available wherever you see the filter icon in a column header. Highlighted filters denote columns with clickable hyperlinks.
NOTE: Filtering options are different within Users, Courses, and Enrollments. This example shows filtering options within Users.

You can filter multiple columns and multiple criteria within columns to narrow your list.
EXAMPLE: If you only want to see users with the Teacher user type, click the filter icon in the User Type column and use the checkbox to select Teacher from the drop-down menu. Then, click OK or Cancel.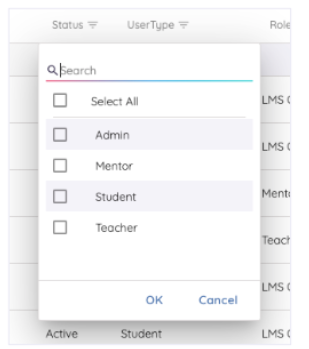 CLEARING FILTERS
Click the Clear All Filters icon to clear your filter(s).

Please note, the images that may be found in this resource may not match your screen.
This is a Lincoln Learning Solutions product. Access/features may vary based on client contract.
© 2021 Lincoln Learning Solutions. All rights reserved.