The purpose of this resource is to provide an overview of how to complete an activity in Buzz.
TIP: Click here for additional written directions.
NOTE: To view the above resource in a new window, click here.
What is Completion?
Completion of an activity or an assessment is indicated by a check mark. This check mark can be found within the circle around the activity icon.

This check mark can also be seen in the activity list of the course.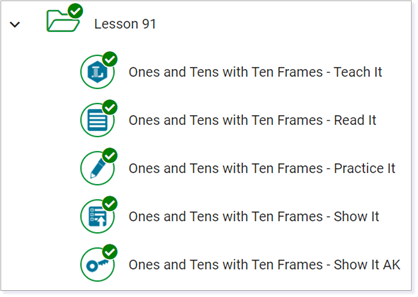 TIP: If all items in a folder have a completion checkmark, the folder will also be marked with a completion checkmark.
How to Complete an Activity
For some courses, completion of an activity is based on a set time. If this is the case, you will see a timer icon in the upper right hand corner.

Once you have spent the required time in the course, a green checkmark will appear where the timer previously was.

For other courses, an activity might be completed when the student selects the MARK THIS ACTIVITY COMPLETE button located in the bottom left corner of the activity.

IMPORTANT: If students do not see the MARK THIS ACTIVITY COMPLETE button, this is an indication the activity completion is for a set time. Teachers can adjust these preferences as they see fit for their learning environment.
How to Complete an Assessment
When you submit an assessment, the checkmark icon will appear. Teachers can adjust this action. Typically, this populates upon submission, even if a teacher still needs to provide feedback and scoring to your assessment.
Please note, the images that may be found in this resource may not match your screen.
This is a Lincoln Learning Solutions product. Access/features may vary based on client contract.
© 2022 Lincoln Learning Solutions. All rights reserved.