This resource instructs teachers where to find their course Pacing Guide and offers tips on how to use it to make their teaching more impactful.
This video gives a visual overview of the course Pacing Guide, including where to find it and how it can be skillfully used for effective teaching. Click the Play button below to get started. Or, click here for additional written directions.
LOCATING THE PACING GUIDE
Your course Pacing Guide can be found in Course Resources within your course content.
UNDERSTANDING THE PACING GUIDE
The Pacing Guide helps you visually understand the arrangement of your course and ways to personalize it.
The Pacing Guide outlines the entire course by listing course objectives and standard alignment. It also identifies each topic, the lessons within each topic, and the learning objects within the lesson. Assessments are highlighted as well.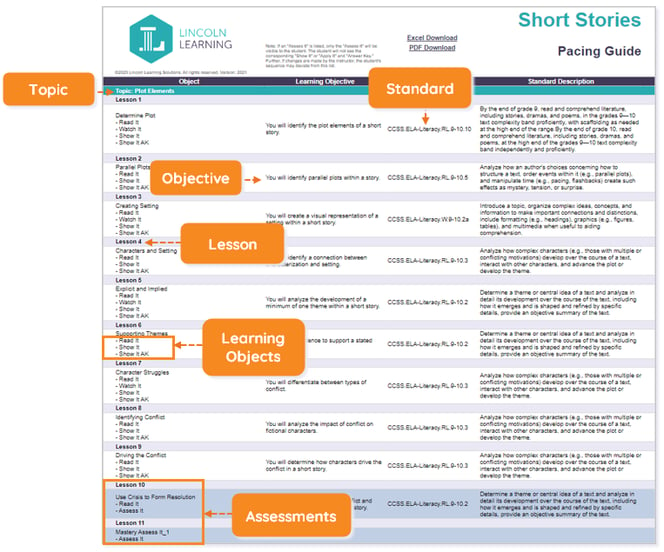 IMPORTANT: This example is from a Lincoln Empowered course and the Pacing Guide colors may vary slightly from one product to the next.
USING THE PACING GUIDE TO SUPPORT LEARNING
Reviewing and knowing the content of your course is essential to supporting your students' learning. Understanding the content within each lesson can allow you to offer personalized advice and suggestions to your students.
Use your Pacing Guide to take detailed notes like keeping track of pacing adjustments or noting assignments with which students particularly struggled. To do this, select Excel Download on your Pacing Guide.

Once the Excel is downloaded, click Enable Editing.

Create a Notes column to track customizations, assessment comments, and more.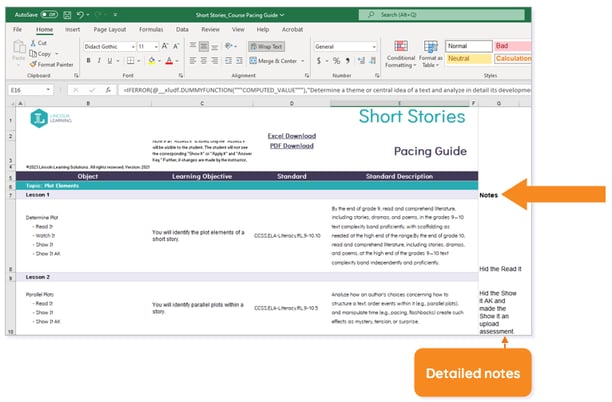 TIP: Tracking customizations will help you apply changes from year to year as well as aid you should there be any future changes or releases of the course.
Please note, the images that may be found in this resource may not match your screen.
This is a Lincoln Learning Solutions product. Access/features may vary based on client contract.
© 2023 Lincoln Learning Solutions. All rights reserved.