This article explains how to limit student distractors at the User level upon client request and approval.
IMPORTANT: This is only for clients who use their own teachers and is specific to the Buzz Client Admin role. This setting will be applied only upon request.
Requesting Access: If you require this ability, please reach out to your Lincoln Learning Solutions (LLS) contact so the internal request can be created on your behalf.
TIP: Clients using LLS teachers go through Student Support Services teams for such changes.
CAUTION: Applying this setting to a user affects all Multiple Choice questions for the student. This cannot be adjusted per class.
Upon request, the permissions to adjust the Accommodations details associated to a User role will be applied. This allows the user to apply the desired number of Multiple Choice options to the user.
To limit Multiple Choice options, select Limit number of options on multiple-choice questions to... and select the desired number from the drop-down menu.
IMPORTANT: This is a permission outside of the typical Buzz Client Admin. As such, it should be applied with caution.
Once your access is set up, the ability to limit the number of question options can be set per student. This applies to all Multiple Choice questions for that student across all of their courses. This is not able to be done per course.
Locate the student within Buzz. Click their Details tab.
Once you do that, you will see the option at the bottom for Accommodations with a drop-down menu for Limit number of options on multiple-choice questions. Select that drop-down, then the desired number.
IMPORTANT: Remember to click SAVE.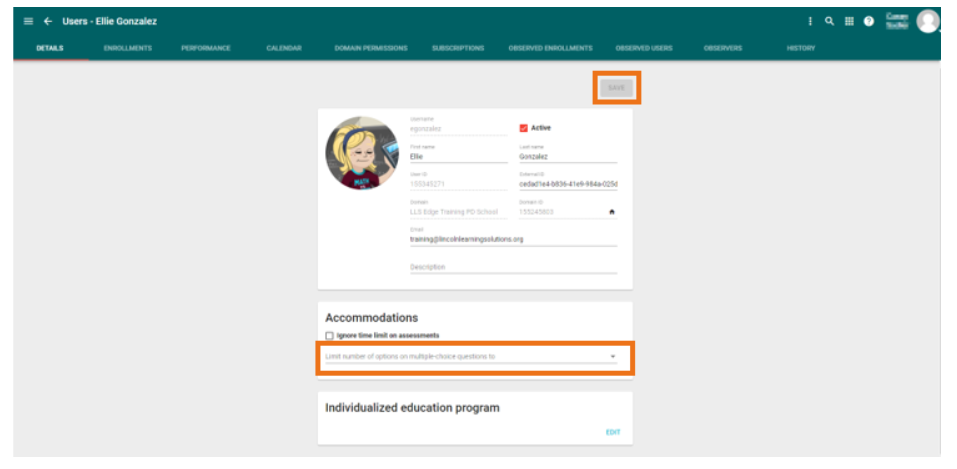 Please note, the images that may be found in this resource may not match your screen.
This is a Lincoln Learning Solutions product. Access/features may vary based on client contract.
© 2021 Lincoln Learning Solutions. All rights reserved.