This article instructs teachers on how to make a Lincoln Learning Object (LO) activity gradable. This resource is only applicable for activities already provided with the Lincoln Learning curriculum.
What is an LO Assignment?
Teachers may want to make an LO activity an assignment to provide an opportunity to ask for more authentic student work.
NOTE: In Learning Tree, an assignment is defined as an activity that allows teachers to add a description/instructions, rubric, and a student response box. It also offers students a place to upload authentic work for submission. An assignment can be either graded or ungraded.
Since LOs are already created in the system as an activity, when you adjust the settings, the ability to add descriptions/instructions, rubrics, and student response boxes will not be available. However, students will be able to upload authentic work for submission, and a teacher can determine if it's graded or ungraded.
Adjusting Activity Settings
On the activity you want to adjust, click the Schedule icon.
TIP: The Schedule icon on this screen is a More Options icon with the three dots.

Next, select Edit from the menu.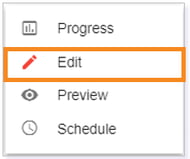 In the Add/Edit External Tool of the activity, you have the following options:
Toggle Not an Assignment to say Is an Assignment
Adjust Max Score
Toggle Not Graded to Graded

IMPORTANT: Although you will see text boxes for Description/Instructions and Rubric, you will not be able to edit these areas. You will also not be able to use the Add New Rubric button.
After all adjustments are completed, click Save in the bottom-right corner.

You will see a notification if saving your adjustments was successful.

TIP: Try publishing an announcement to provide further information regarding the newly adjusted activity.
NOTE: Remember to hide any corresponding Answer Keys (AKs) if you make an activity gradable.
Please note, the images that may be found in this resource may not match your screen.
This is a Lincoln Learning Solutions product. Access/features may vary based on client contract.
© 2023 Lincoln Learning Solutions. All rights reserved.