This resource demonstrates how teachers can publish hidden lesson-level Assess Its and make them a graded activity in Learning Tree.
Throughout the Lincoln Learning Empowered content within Learning Tree, there are lesson-level Assess Its which are unpublished making them hidden from the student view. These Assess Its typically contain five questions which can include extended-text/essay, multiple choice, multiple answer, matching, and ordering questions.

TIP: As a teacher, you may want to publish the hidden Assess It and make it a graded activity to test your students' comprehension of the previously covered topic or subtopic. You may think of this scenario as giving your students a quiz.
WARNING: Publishing the lesson-level Assess It does not automatically make it a graded activity, thereby adding it to the Report Card. Further action is needed to complete this process. Click here to learn how to make the Assess It a graded activity.
PUBLISHING A HIDDEN LESSON-LEVEL ASSESS IT
Within your Learning tab, identify the hidden lesson-level Assess It you would like to publish and click the Publish toggle, turning it from gray to blue.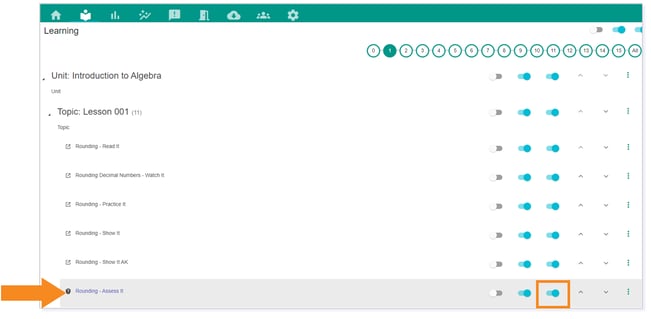 This lesson-level Assess It is no longer hidden, and students will be able to see and access this item in their course content.
MAKING THE LESSON-LEVEL ASSESS IT A GRADED ACTIVITY
To make the item a graded activity so students receive a score, and a Performance Grade Band, and to make the activity visible in the Report Card, click the Schedule/More Options icon on the activity.

From the pop-up menu, select Edit.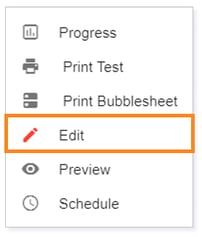 In Add/Edit Assessment, click the Not Graded toggle, turning it from gray to blue. This will change the toggle label from Not Graded to Graded.

IMPORTANT: Lincoln Learning content is not weighted. However, your District Admin may have applied weights at the tenant level. If so, you may have the opportunity to adjust the Weightage Category by clicking the drop-down arrow. Please reach out to your District Admin for more details.
Click Save when you are finished.

Your lesson-level Assess It is now a graded activity and will be visible in the Report Card tab.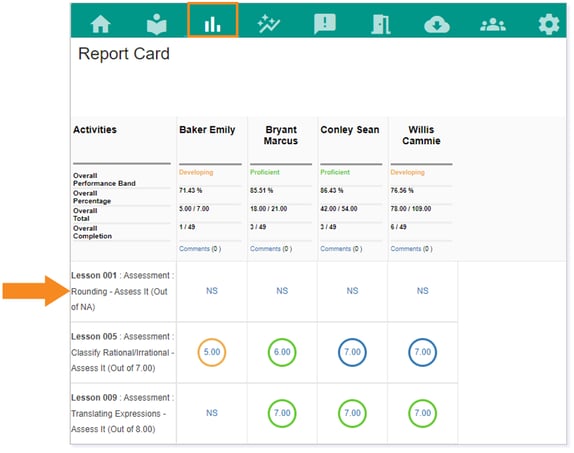 Please note, the images that may be found in this resource may not match your screen.
This is a Lincoln Learning Solutions product. Access/features may vary based on client contract.
© 2023 Lincoln Learning Solutions. All rights reserved.