Reading a Class Record in Pulse
This resource explains how to read a class record in Pulse.
Navigate to Courses.

Search or filter for the class you wish to view.
Click the Course Name hyperlink to open the class record.

The class record displays.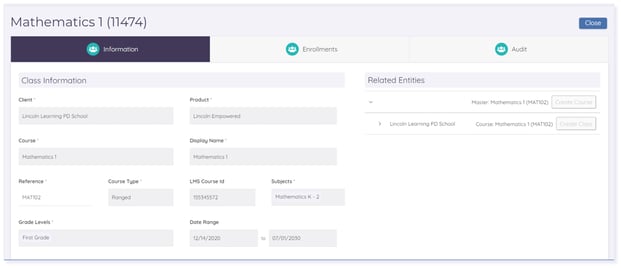 IMPORTANT: Some classes may have an Enrollment Cap. This cap is a recommendation only. An Enrollment Cap of zero is the default. This means there is no cap set on the course. Enrollments are still able to be processed as long as the class is still Allowing New Enrollments.
NOTE: An automated email will be sent to the Instructional Managers distribution group when a Lincoln Learning Solutions' taught class reaches the Enrollment Cap Threshold. Communication is only sent to LLS Instructional Managers at this time.
Please note, the images in this article may not match your screen.
This is a Lincoln Learning Solutions product. Access may vary based on client contract.
© 2022 Lincoln Learning Solutions. All rights reserved.