This article is designed to provide students and teachers with facts and information about Lincoln Empowered Remediation courses.
COURSE STRUCTURE
This course contains topic-level folders.
Topic folders begin with a Pre-Test in the first lesson in the topic folder.

Students must take the Pre-Test.
If students master specific pieces of content on the Pre-Test, they may be excused from that content within the course lessons.

The lesson folders that follow will contain learning objects.
The last lesson within a topic folder will contain the Post-Test for that topic.

Students must take the Post-Test and pass with a score of 60 percent or higher before moving on to the next topic.
PRE-TEST – ASSESS IT
Students take a Pre-Test – Assess It at the beginning of each topic. Based on how the students perform, they can be excused from content associated to a particular learning objective within the topic of study.
Students need to answer two questions on a particular learning objective successfully to be excused from the activities associated to that learning objective.
Keep in mind that a topic of study may contain multiple learning objectives, so students are excused based on the score of the learning objectives, not the overall score of the Pre-Test.
There are two questions per learning objective, and both need to be answered correctly for the student to be excused from content written to the learning objective.
LESSON FOLDERS
Throughout the course, students will encounter lesson folders that contain learning objects. Click here to learn more about learning objects by watching the What is a Learning Object? video.
Read Its are the primary learning tools within a course. Each Read It provides the essential instructional content to support a specific learning objective. Each Read It has an accompanying Show It.
Practice Its provide the opportunity for students to practice new skills and concepts. These learning objects contain online and offline activities and problem sets. Answers are provided within the learning object.
Show Its are non-graded activities that allow students to demonstrate mastery of a specific learning objective. Teachers can elect to make these gradable. Each Show It has an accompanying Answer Key.
Apply Its are non-graded assessments that cover content from multiple lessons. Apply Its can be cumulative projects that allow students to demonstrate mastery of several learning objectives and standards. Teachers can elect to make these gradable. Each Apply It has an accompanying Answer Key.
Answer Keys are available for each of the Show Its and Apply Its. They provide correct answers and detailed feedback. If teachers make a Show It or Apply It gradable, the Answer Key can be hidden from students.
Assess Its are graded assessments that allow students to demonstrate mastery. These learning objects appear after each lesson as short, online assessments and are auto-graded. Each assessment in the sequence of the course must be completed prior to attempting the next assessment. Students will be redirected if they try to jump ahead.
Watch Its contain engaging videos to support the lesson content and enhance the student learning experience.
Play Its contain exciting games to reinforce skills and are aligned to one or more standards.
Reinforce Its are designed to reinforce specific concepts and skills. These objects provide an alternative approach to learning.
Extend Its are designed to help students extend their knowledge in specific content areas.
POST-TEST – ASSESS IT
At the end of each topic, students take a summative assessment called the Post-Test – Assess It.
The passing score of each Post-Test is set at a pre-determined 60 percent.
If the student does not pass a Post-Test, they will automatically be able to retake the assessment without a teacher reset.
The student's highest score will remain as the Post-Test score.
Students cannot continue to the next topic until they complete the Post-Test with a pre-determined passing score of 60 percent.
VISIBILITY OF EXCUSED CONTENT
Although students can be excused from content, they may want to review the excused content before taking the Post-Test – Assess It. At any point throughout the course, a student can access all content regardless of whether it has been excused. To see hidden/excused content, students need to change their LMS settings.
1. First, click the avatar in the upper right and select Settings.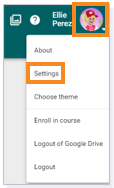 2. Next, locate the Other tile and find the option Hide excused activities.
A checked box means that the excused content is hidden.
An unchecked box means that the excused content is visible.


IMPORTANT: Content will be hidden if the settings are not adjusted to unselect this option
Please note, the images that may be found in this resource may not match your screen.
This is a Lincoln Learning Solutions product. Access/features may vary based on client contract.
© 2021 Lincoln Learning Solutions. All rights reserved.