Sending Email Through the Communication Page of Buzz
This article details how to send email through Buzz's Communication page. Emails can be customized for individual students, all students within a course, and observers.
Start by expanding the Main Menu.

You can send mail by selecting Communication from the Main Menu.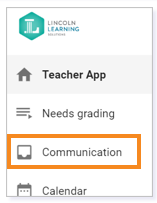 Next, click the send mail icon in the Communication toolbar.
IMPORTANT: When you are sending an email in Buzz, there is no record of the email unless you check the box next to Send a copy to me.

Please note, the images that may be found in this resource may not match your screen.
This is a Lincoln Learning Solutions product. Access/features may vary based on client contract.
© 2021 Lincoln Learning Solutions. All rights reserved.