This article details how to send email directly to students using the Buzz Mail feature from People.
In the People area, you can display a list of students for a single course or for all courses.
To access People from the Homepage, open the Main Menu and select People. This displays the students enrolled in all courses.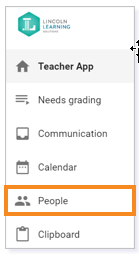 To send email to one student or all the students in a specific course, click the People icon on the Course Card or in the List View. This displays all the students in that course.

TIP: These same options will be available in the Main Menu from other areas of the course.
From the People page, select individual email recipients by clicking the box to the left of the student's name. Select all students by clicking the box next to Name.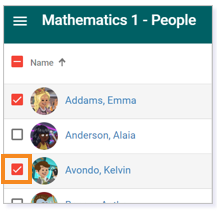 Next, click the mail icon and a message screen will appear.

IMPORTANT: When sending an email in Buzz, there is no record of the email unless you check the box next to Send a copy to me.

Please note, the images that may be found in this resource may not match your screen.
This is a Lincoln Learning Solutions product. Access/features may vary based on client contract.
© 2021 Lincoln Learning Solutions. All rights reserved.