This article provides an overview of the student Main Menu in Learning Tree.
Student Main Menu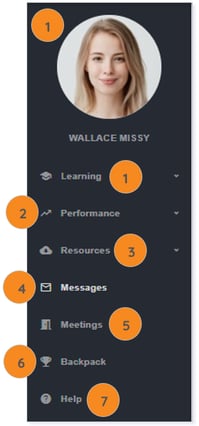 1. Profile Picture and Learning – Clicking on either option will allow you to navigate to the Communities Landing Page.
2. Performance – Gives you access to your Data Dashboard which provides drillable graphs depicting standards mastery, formative assessments, assignments, and more.
NOTE: Dashboards are customized and dependent on data and your district's setup.
3. Resources – Allows you to access materials for supplemental learning.
TIP: Click here for more information regarding accessing supplemental support.
4. Messages – Gives you the ability to email your teacher within Learning Tree's system.
TIP: If you see a blue circle with a number in it, you have an unread message in your inbox.

NOTE: Click here to learn more about sending messages to your teacher.
5. Meetings – Attend scheduled meetings you have been invited to by your teachers or district admins.
NOTE: Meetings in the Main Menu are not the same as Meetings within a community which are meant for live instruction with that community's members only.
6. Backpack – View badges and credentials you have earned by completing courses, assignments, activities, etc. throughout Learning Tree.
7. Help – Have a question? Clicking here will direct you to the Help Center allowing you to view resources to problem solve.
Please note, the images that may be found in this resource may not match your screen.
This is a Lincoln Learning Solutions product. Access/features may vary based on client contract.
© 2023 Lincoln Learning Solutions. All rights reserved.