This resource details how to complete an upload assessment.
TIP: Click here for additional written directions.
NOTE: To view the above resource in a new window, click here.
To submit an Upload Assessment, make sure you have saved your completed work and are ready to upload your file. You can upload a file from your computer or choose to attach a Google document.
Click the blue plus sign.

Click Attach a file or Choose Google document and select the file(s) you wish to attach.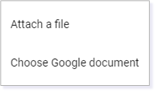 TIP: For help with choosing a Google document, click here.
Write any comments to your teacher in the comment box with the large gray plus sign.

Click SUBMIT MY WORK when you are finished to send the assignment to your teacher,

or click X in the upper left corner of the window to close the assessment and save your assignment progress for later submission.

Please note, the images that may be found in this resource may not match your screen.
This is a Lincoln Learning Solutions product. Access/features may vary based on client contract.
© 2022 Lincoln Learning Solutions. All rights reserved.