This video explains how students submit an online assessment in Learning Tree.
Click the Play button below to get started.
Additionally, click the following topics to be taken directly to that information within this article.
An online assessment tests your knowledge by asking you a variety of questions of types. Online assessments may be completely auto graded and provide you a performance grade band upon your submission. However, if your assessment includes an extended-text or essay question, you will receive your grade after your teacher has graded that portion of the assessment.
STARTING AN ASSESSMENT
When you come to an online assessment, be sure to review the instructions prior to clicking BEGIN TEST.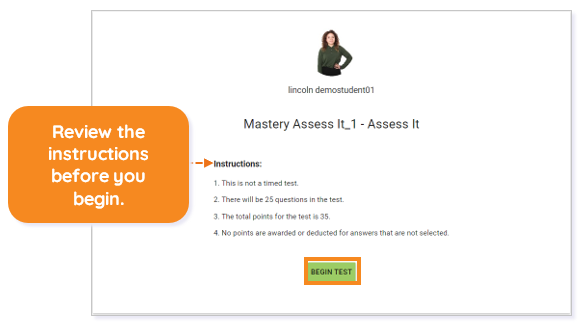 NOTE: Within an assessment, click the Instructions icon to review the instructions at any time.

ASSESSMENT COMPONENTS
Once the test populates, you will view a variety of things, including: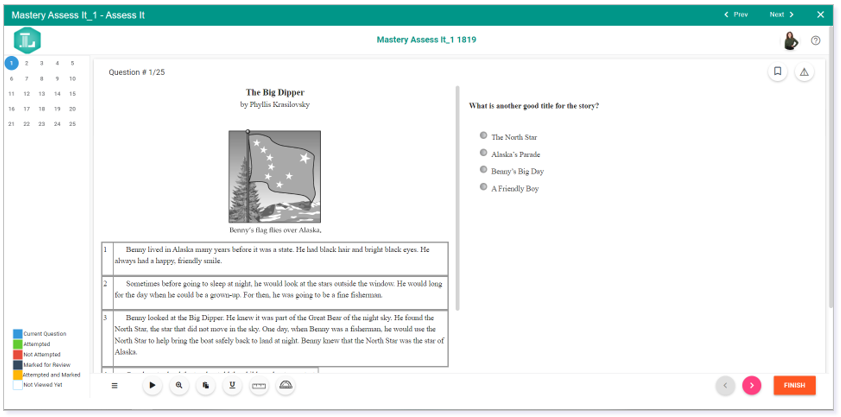 Assessment Details
The Assessment Details gives you an overview of your question statuses. Each color represents a different status.
Blue – question you're currently working on
Green – question you've already answered
Red – question you have not attempted to answer
Dark Blue – question you want to come back to by marking it for review

Yellow – question you've attempted but marked for review
No color – question you haven't viewed




Assessment Help
If you need help during your assessment, reference the Assessment Help Toolbar for assistance.

NOTE: Click here for a video regarding Assessment Help in Learning Tree
Navigation Options
To exit the assessment while saving it until you return, click the X in the upper-right hand corner.

To see the Previous or Next question, click the arrows at the bottom of the screen.

Question Types
An online assessment includes a variety of question types, including:
Multiple Choice
When you encounter a multiple-choice question, read the question, and pick the answer you think is correct.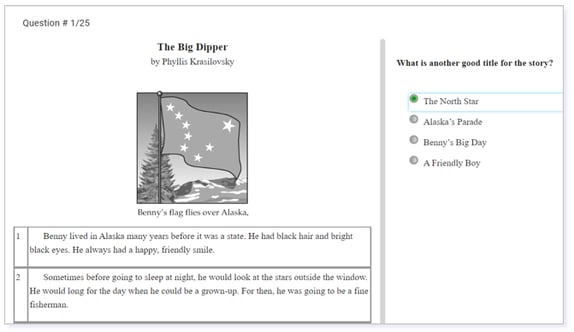 Passage
NOTE: Passages can be associated with any question type.
When you come to a question that provides a link at the top, click on the link, and then carefully read the provided passage. After reading the passage, provide your answer to the question.
TIP: Because the passage opens in a new browser tab, you can toggle between the tabs to answer your question. Keep the other tab open in case you are asked another question about that passage.

Multiple Answer
A question offering more than one correct answer is known as a multiple-answer question. Read the question and select all the boxes that apply.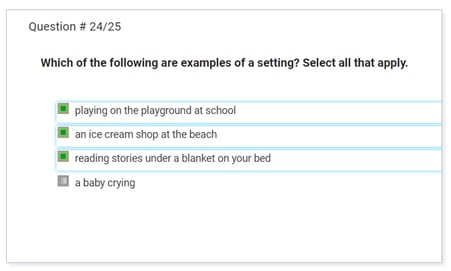 Matching
In a matching question, click the box to the right under the correct answer.

Ordering
To answer an ordering question, simply click the items and drag and drop them into the correct order.
NOTE: To view the above resource in a new window, click here.
Extended Text or Essay
These questions ask you to describe your thinking by submitting authentic work.
TIP: You can use the Editor feature to bold or italicize your font, create bulleted lists, add hyperlinks and images, and so much more.

Completing an Online Assessment
You will know you are at the end of the assessment when the Next button no longer functions and is grayed out.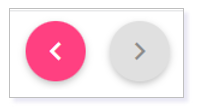 To submit your assessment, click FINISH.

In the Assessment Submission Review pop up, you can review your answers. If you would like to return to the assessment to change an answer, click RESUME. If you are ready to complete the assessment, click SUBMIT.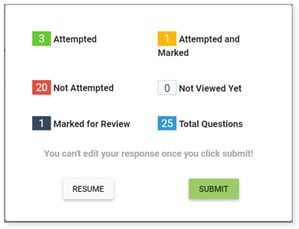 WARNING: You can't edit your responses after clicking SUBMIT. You will need to reach out to your teacher for further assistance after submitting an assessment.
Please note, the images that may be found in this resource may not match your screen.
This is a Lincoln Learning Solutions product. Access/features may vary based on client contract.
© 2023 Lincoln Learning Solutions. All rights reserved.