This resource highlights the key parts of the teacher's Communities Landing Page in Learning Tree.
TIP: Click here for written documentation.
Click the Play button below to get started.
KEY PARTS OF THE COMMUNITIES LANDING PAGE
The key parts of the Communities Landing Page are the:
Schedule
In the schedule you will see activities you have scheduled or those on which you've placed hard due dates.

NOTE: Click here for more information regarding scheduling due dates.
IMPORTANT: If you do not schedule any items, you will see No Scheduled Activities! in the Schedule.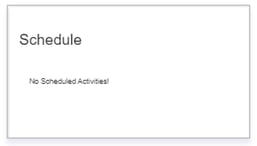 Community Cards
Your community cards will show you every community in which you are a teacher or an observer. You will see the community name and the community description.

Clicking the pencil icon will allow you to edit the community description at any time.
TIP: It is recommended you keep your description brief for easy readability.
If you are having trouble finding a community card, use the Search feature to filter your cards.

If you want to make it easier to access the community or communities in which you are currently enrolled, you can bookmark to bring it to the top of your community cards.
WARNING: Bookmarking a community card will not only pull the card to the top of your list, but it will also pull it to the top of the community cards for all community members.
NOTE: Click here for more information regarding adjusting the view of your communities.
Speed Grader
The Speed Grader will populate all items needing grading across all courses.

NOTE: Click here for more information regarding grading student work.
More Options
Clicking the More Options icon allows you to create a new community, see progress across all communities, and view archived communities.

NOTE: Click here for more information on creating a new community. Click here for more information about archiving communities and how to view them.
Please note, the images that may be found in this resource may not match your screen.
This is a Lincoln Learning Solutions product. Access/features may vary based on client contract.
© 2023 Lincoln Learning Solutions. All rights reserved.