This article helps students to understand and effectively utilize the Learning tab in Learning Tree.
NOTE: The Learning tab is where your course content lives. It will be where you view and complete activities and assessments.
Navigating to the Learning Tab
In a community, you can navigate to the course content by clicking on the Learning tab.

Viewing Content
Once in the Learning tab, you will be able to view and complete content within the course syllabus.
TIP: It is recommended you view the content one unit at a time by clicking on your current unit number at the top of the tab. Clicking All is discouraged because it will open all units and lessons which can overwhelm the platform causing it to run slowly.

NOTE: Unit 0 contains the Course Resources. Course Resources include the Pacing Guide, Parent and Teacher Guide, Materials List, and more.
Click on your current lesson to open the activities list.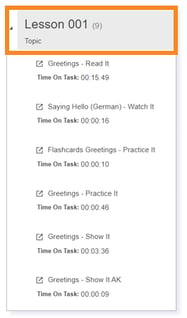 Click on an activity to open and complete it.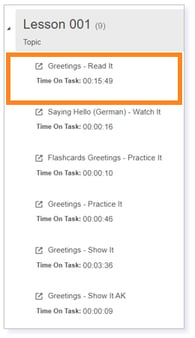 NOTE: Click here for more information regarding completing activities in Learning Tree.
Activity Statuses and Grade Bands
As you complete activities and assessments, you will see activity statuses, such as VIEWED, and performance grade bands, such as PROFICIENT.
NOTE: Click here for more information regarding the types of activity statuses and grade bands.
Click to Bookmark
Do you want to save an activity to view later or easily access your next assigned activity? Bookmarking an activity is a helpful way to save an activity for later viewing.
NOTE: Click here for more information on creating activity bookmarks in Learning Tree.
Please note, the images that may be found in this resource may not match your screen.
This is a Lincoln Learning Solutions product. Access/features may vary based on client contract.
© 2023 Lincoln Learning Solutions. All rights reserved.