This article is designed to help you use and navigate the Buzz Gradebook.
ACCESSING THE GRADEBOOK
You can access the Gradebook in one of two ways.
Click the Gradebook icon associated with the course you want to view.

If you are already in the course, you can access the Gradebook through the main menu.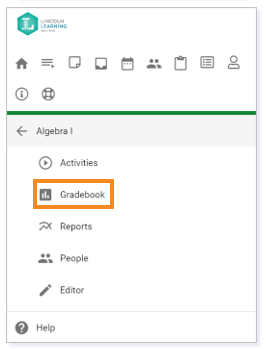 GRADES TAB
The Gradebook automatically opens to the GRADES tab. This tab allows you to see all your students, their assessments, and their current grades. You can also see assessments that have been submitted but need to be graded. This tab also shows whether a student was allowed a retry or if you left comments on a student's assessment.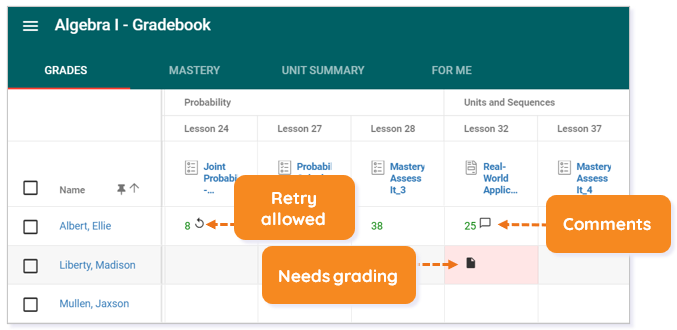 Accessing Individual Student Gradebook
From within the Course Gradebook, you can easily access each student's Individual Gradebook by simply clicking on their name.
At the top of the students individual gradebook you can easily see the students current grade, start and end date, the percentage of gradable activities completed, and the percentage of all activities completed.

Within the Grades tab of an individual student gradebook, you can easily see the score received on gradable activities when it was submitted and when it was due within the GRADES tab.
Within the ACTIVITY tab, you can see time spent on all activities.
The individual student gradebook is also a parallel view to what a student will see in their Grades. This includes seeing the Activity Stream (STREAM) and TO-DO LIST.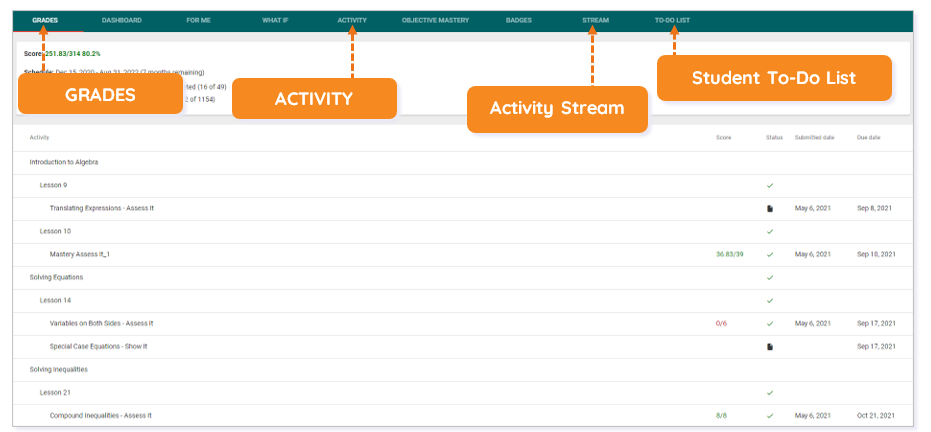 ANALYTICS
By clicking on the assessment name, you can view data specific to the assessment.

Navigate to ANALYTICS. Here, you can view the Frequency of score, Statistics, Frequency of grades, Questions, Learning objective mastery, and Proficiency by student along with the difficulty, discrimination, and the specific question text. You can also Export analytics to your own computer. This option allows you to determine where students are struggling or excelling. You are also able to see the exact questions that most students are missing.
NOTE: Not all analytics are available for Upload assessments.
Frequency of Score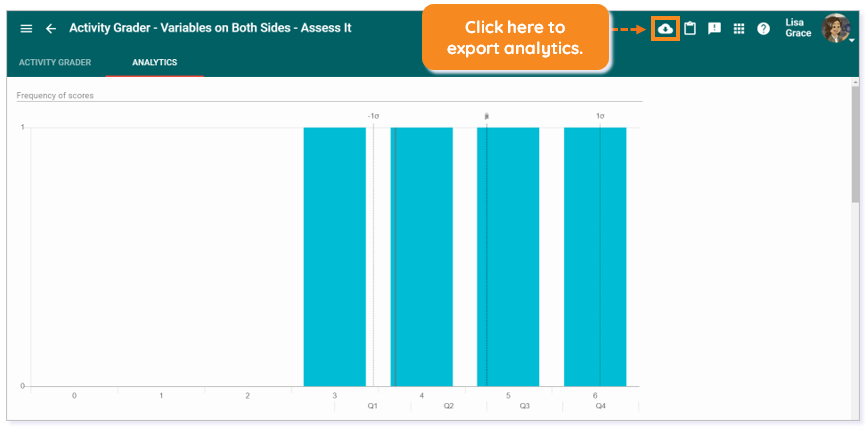 Statistics and Frequency of Grades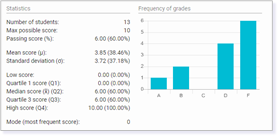 Questions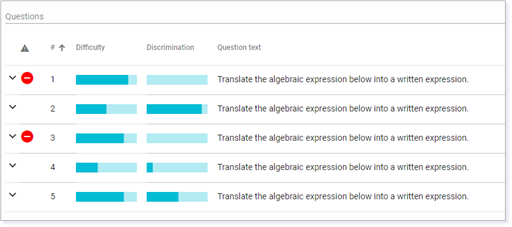 Learning Objective Mastery

Proficiency by Student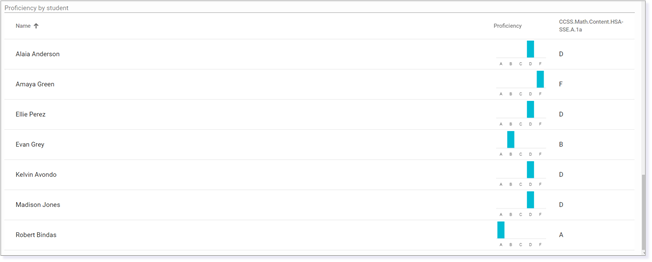 GRADEBOOK TOOLBAR
In the Gradebook, you will find a menu at the top of the page wherein you can make adjustments.

Display Options
You can adjust the view of your Gradebook by selecting Display Options. This option allows you to adjust the number of columns and add footers and other items that are shown in the Gradebook.

Visible columns: This option allows you to customize the columns in your Gradebook by choosing from specific categories. These categories include Student, Grade, Progress, and Enrollment.

NOTE: A Not Started status appears for students in Buzz who have been enrolled but have not officially started.
Visible footers: This option allows you to customize the footers in your Gradebook by choosing Scores, Category, or Date.

Score display: This option allows you to customize the way scores are displayed in your Gradebook.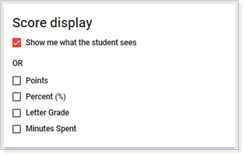 Other view options:
Show header rows: This option displays header rows.
Show for me: This option provides you with a link to see any teacher-assigned or self-assigned activities that are not part of the set coursework. Self-assigned activities are those that students assign to themselves to stay on pace, but this is a feature that must be turned on by the teacher. The self-assigned column cannot be hidden from the Show for me view.
Show non-gradable activities: This option provides you with a list of activities that are not gradable.
Show inactive enrollments: This option includes students with inactive enrollments in your Gradebook student list.
IMPORTANT: Check this box to show inactive enrollments when finalizing grades or to look back at a grade.
NOTE: To view the above resource in a new window, click here.
Show feedback indicators: This option shows flags where feedback has been added to an assessment.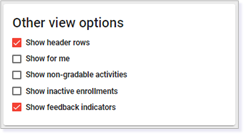 Tools: This option allows you to export the chosen gradebook options to other courses or import the gradebook options that were already established in another course.
Enable Quick-Edit Grading
Once Quick-edit is enabled, you can quickly add a score to any assessment in the Gradebook by clicking in the score box. If you want to view just one assessment on your screen, click the assessment name.

IMPORTANT: When you are done using Quick-edit, be sure to disable it.
Find Activity
You can quickly search for an activity in the Gradebook by clicking the find activity icon.

A quick list appears as you begin to type the title into the search bar. Click the activity you would like to view.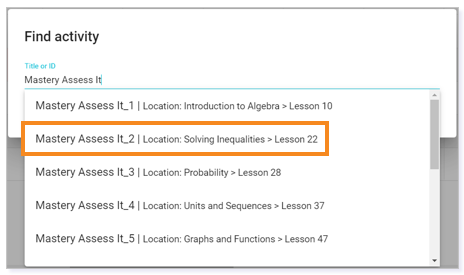 Click OK to navigate to that activity.

Filter

TIP: Once you no longer need the filters, be sure to select CLEAR FILTER.
Clipboard
Two icons in the toolbar utilize the Clipboard.
Add Selected Students to Clipboard
You will notice a box beside each student's name. Here, you can select all the students by checking the box next to Name.
You also have the option to select individual students by checking the box beside a name.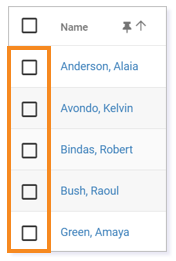 Once you have selected students, click the Add selected students to clipboard icon.

Go to Clipboard
Tools
To finalize grades, click on the wrench icon and select Go to final grades.
TIP: When you click on the wrench icon, you can also choose to import and export scores. For more information on this, see the Importing and Exporting Scores article.
In the new screen, you will see the Name of the student, the Calculated Score, and the final Grade to Submit. You can also decide whether all unscored activities should be marked as zero or be excused. Once you have selected your preferred options, you can select SUBMIT SELECTED to submit the scores.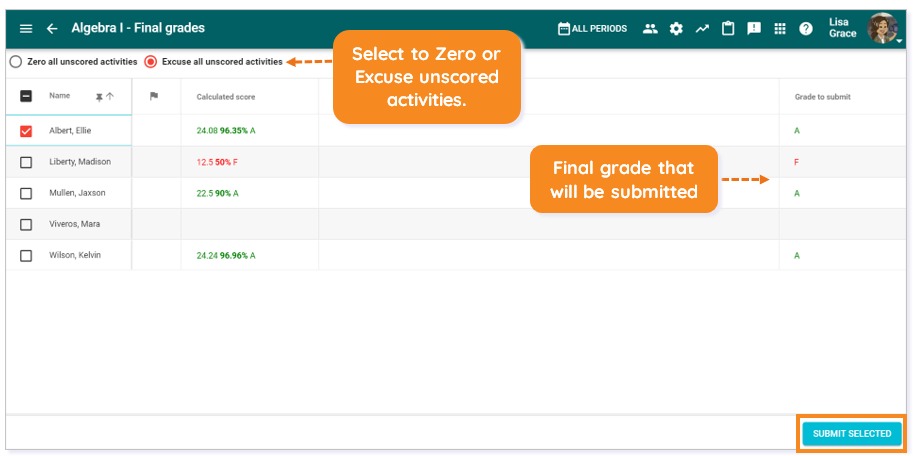 ADDITIONAL GRADEBOOK TABS
MASTERY
The MASTERY tab allows you to see the standards the students have mastered, those they have not mastered, and those they have not attempted.

UNIT SUMMARY
The UNIT SUMMARY tab allows you to see how far each student has progressed through each unit. Student progress will show for the entire course and per unit.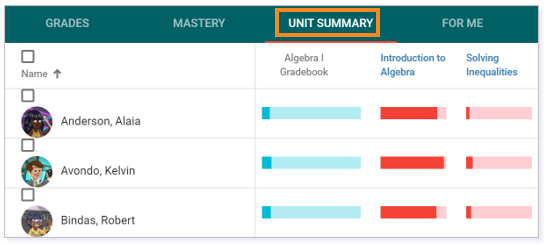 By clicking on a specific unit title, you can see a student's progress per lesson.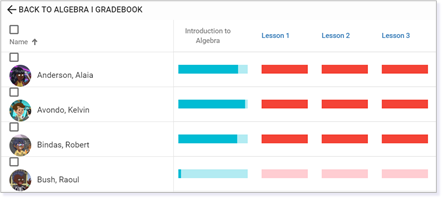 FOR ME
The FOR ME tab allows you to see non-course content that was assigned to a student. For example, if you created and assigned extra practice problems for a student to complete, those assignments appear here

ADDITIONAL GRADING RESOURCES
Please note, the images that may be found in this resource may not match your screen.
This is a Lincoln Learning Solutions product. Access/features may vary based on client contract.
© 2022 Lincoln Learning Solutions. All rights reserved.