This article will help students understand the information presented in the Progress tab in the student view in Learning Tree.
Accessing the Progress Tab
On your community landing page, select the Progress tab.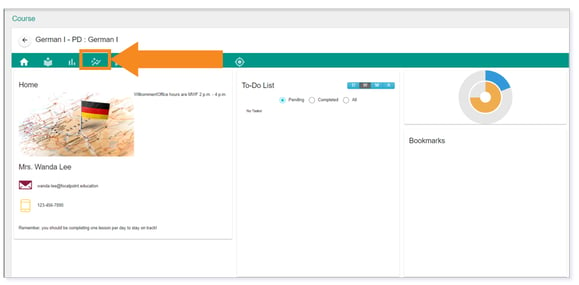 The Progress data bar graph will populate.

NOTE: The data bar graph has default settings, and these settings are what is recommended for helping students to monitor their progress.
Progress Tab Definitions
You will need to know the following terms to understand the information in the Progress tab:
Count – number of activities per status
Completed – assignments or assessments which have been graded
InProgress – assignments or assessments which have been started but are not submitted
Not Started – activities which have yet to be accessed
PendingEvaluation – assessments with extended text questions (i.e., essays) which are awaiting teacher grading
Reopen – assignments or assessments the teacher is allowing you to continue working on after it has been submitted
Submitted – graded assignments and upload assessments which are awaiting the teacher to submit a single assignment score
Viewed – ungraded activities which have been opened
Objective – Lesson number
Activity – LLS' learning objects and teacher-added content
Status – whether the activity is Completed, InProgress, Not Started, PendingEvaluation, Submitted, or Viewed
Performance – customized grade band placed on a Completed activity
NOTE: For Lincoln Learning Solutions' (LLS) course content, Viewed means the activity has met the standard for completion.
Filterable Fields
Objective, Activity, Status, and Performance are all filterable fields. This means you can narrow down your results by selecting a filter within the field.
To filter in a field, select the Filter icon on the field button.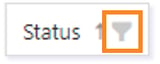 From the menu, select one or more filters to change the information you view in the Progress data bar graph and click OK when finished.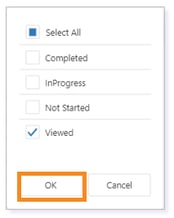 Your Progress data bar graph will automatically adjust to the applied filters.

Drill Down Data
You are also able to drill down in the data even further to see what activities are Completed, InProgress, Not Started, and Viewed.
To do this, identify the Status and Lesson you would like to drill into and click on the number found in that data field.

The Lesson Drill Down Data box will populate, showing you all the activities within that status.

Please note, the images that may be found in this resource may not match your screen.
This is a Lincoln Learning Solutions product. Access/features may vary based on client contract.
© 2022 Lincoln Learning Solutions. All rights reserved.