Using Voice Recorder for Chrome
This article explains how to record an audio file using Voice Recorder for Chrome.
Connect a computer microphone/headset to the microphone jack that is either on the side or on the back of your computer.
IMPORTANT: Most computers have an internal microphone, so a microphone/headset is not necessary.
Next, install the Voice Recorder web app from the Chrome Web Store.
Enter the Chrome Web Store.

Search for Voice Recorder.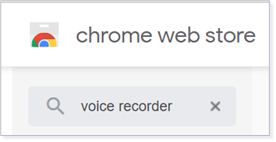 Click the + FREE icon for the Voice Recorder app. Then, click add to install the program.

Select the Voice Recorder application to open the app.
Press the red button to start recording.

The first time you use Voice Recorder, you must select Allow to give Voice Recorder permission to use your camera and microphone.
When you have finished recording, select the stop icon.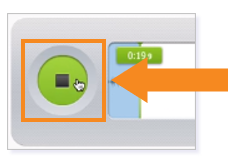 Select Save, and then click Save again.
Select a folder and name your audio file.
TIP: After creating your audio file, click here to learn how to send the file(s) to your instructor.
Please note, the images that may be found in this resource may not match your screen.
This is a Lincoln Learning Solutions product. Access/features may vary based on client contract.
© 2021 Lincoln Learning Solutions. All rights reserved.