This article explains for students the different ways of accessing their Lincoln Learning Solutions' (LLS) course content in Learning Tree.
Start Learning
IMPORTANT: The Start Learning button is only visible in communities where it's been applied by the teacher. If your teacher has not activated this within their community, you will not see the Start Learning button on the community card.
When you log in to Learning Tree, you will see your communities landing page where your community cards will be listed.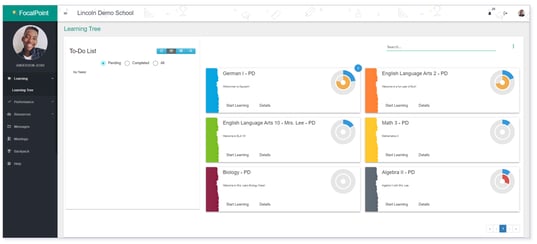 Click Start Learning on a community card to access the activity which is next in the course content.

IMPORTANT: Clicking Start Learning will take you to the activity which is next to be completed in chronological order. If you are skipping around in your course content, this button will take you to the earliest skipped or incomplete graded activity.
Learning Tab
From a community landing page, select the Learning tab.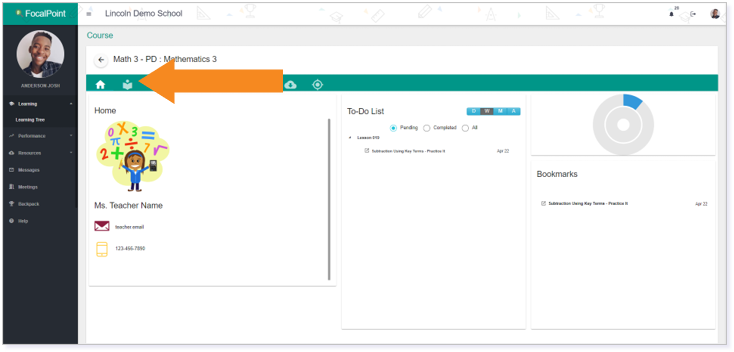 The LLS course content will load, and you will be ready to select activities to begin learning.
TIP: Click the unit number to visit the content you are currently working through.

To-Do List
The To-Do List on your community landing page shows the LLS content your teacher has scheduled for you to complete. Click on the activity to open and complete it.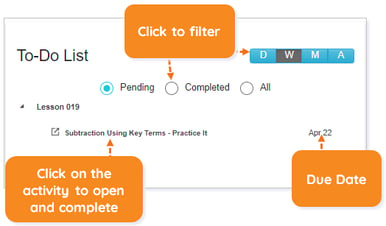 IMPORTANT: Be sure to complete items in the To-Do List by their due date. Failure to do so will lock you out of the activity, and you will need to contact your teacher for further assistance.
Bookmarks
In your course syllabus, you can bookmark an activity by selecting the Click to Bookmark icon.
NOTE: Click here for more information about creating Bookmarks.

From your community landing page, you can access your previously bookmarked activities from the Bookmarks area. Click on the activity to access the content.

IMPORTANT: If you see a date next to a bookmarked activity, this activity has a due date.
Please note, the images that may be found in this resource may not match your screen.
This is a Lincoln Learning Solutions product. Access/features may vary based on client contract.
© 2023 Lincoln Learning Solutions. All rights reserved.