This article will instruct teachers how to add a Lincoln Learning Solutions' Learning Object (LO) in Learning Tree.
Searching for a Learning Object
IMPORTANT: Adding an LO can be done at the unit or topic level only.
Click on the Schedule icon in the unit or topic where you want to add an LO.

TIP: The Schedule icon on this screen is a More Options icon with the three dots.
Next, select Search Activity from the menu.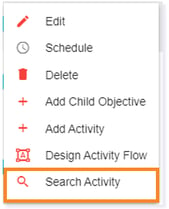 Begin your search by typing in a keyword associated to the title of the LO into the Enter text to search field and click Go.
Next, use the elastic search to narrow your results.

Elastic Search Fields
Using Learning Tree's elastic search, you can filter your results by:
Course Name

All courses are designed by either Lincoln Learning or a designated Course Designer.

Search for a Lincoln Learning Solutions Course Title to filter your search to just that course; for example, Career Explorations.
Course Type

All courses are virtual. At this time, this filter may not be useful.

Object Type

Filter by clicking either Topic (Lesson) or Unit.

Object Name

Filter by searching Topic (Lesson) number or Unit name.

Activity Type

Filter by clicking one of the following:

Assessments: These will be LLS or Designer-created online assessments in Learning Tree.
LTI Content Provider: These are LLS LOs such as Read It, Play It, Practice It, etc.

Activity Name

Search by LO name. Also try searching by LO type, such as Read It, Play It, Practice It, etc. Click here to review all LO types.

Standard
Filter activity by standard.
Communities

All communities created for and by users. This is different than the Course Name search because a course can be created and applied to multiple communities.

Created By

Filter by clicking who created the course, community, assignment, etc. The objects created by lincolnlearning admin contain all LOs embedded directly from Lincoln Learning Solutions.

Tag Type
Lincoln Learning users are unable to use this filter.
Tag Name
Lincoln Learning users are unable to use this filter.
TIP: Make sure you have the correct item by clicking on the LO's hyperlinked name to preview prior to adding it your course.

Adding Your LO
When you locate the LO you want to add, click the plus sign.

You will receive a notification if you were successful in adding the LO to your course.
IMPORTANT: You must publish the LO using the toggle before the students will see the new activity in the course. If you want the students to be able to access the activity, you must activate the LO using the toggle.
Sample Search
You can layer the elastic search fields to help narrow down your outcomes. Below is an example of how you may do this.
Let's say you are searching for resources associated to Plot. Entering text to search without using the elastic search fields will render too many options.

Begin to narrow the results using the elastic search fields by first choosing a Course Name.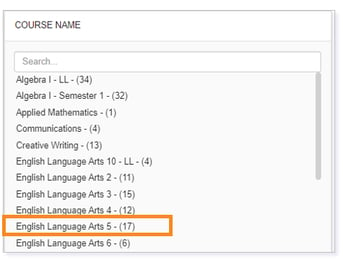 Next, let's say you want to see all the Watch Its associated with plot in English Language Arts 5. Type Watch It into the search field under Activity Name.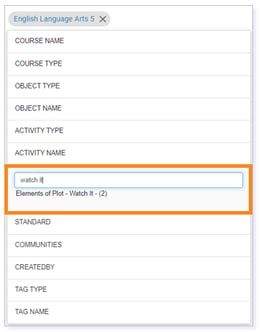 Selecting Elements of Plot – Watch It – (2) will filter your results further and produce a manageable list of items ready for you to preview and add to your course.

Remember, you can click on the hyperlink to preview before adding to your course.

Please note, the images that may be found in this resource may not match your screen.
This is a Lincoln Learning Solutions product. Access/features may vary based on client contract.
© 2023 Lincoln Learning Solutions. All rights reserved.