This article provides an overview of the Observer role in Buzz.
BUZZ: THE LEARNING MANAGEMENT SYSTEM
Lincoln Learning Solutions uses Buzz as its preferred LMS. Designed with the K-12 learner in mind, Buzz helps students to become self-starting learners.
As a coach or parent, you will have access to an observer role in our LMS. In the Observer role, you may monitor student progress directly in Buzz. This will allow you to log in like your student, but not as your student.
This video provides an excellent overview on how you can monitor students as an observer in Buzz. Click the Play button to get started, or read the information below.
ACCESSING BUZZ
With your provided credentials, log in to https://learn.lincolnlearningsolutions.org/.
To access Buzz, click the bee icon.

This action opens Buzz in a new tab and directs you to the Choose Student page. Select a student from your list.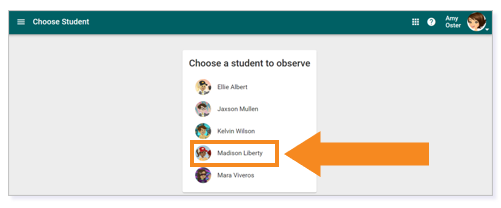 SETTING NOTIFICATIONS
Do you want to know when your student has received teacher feedback or a score on a submission? Would you like to be notified if your student's score drops below passing? As an observer, you can set notification preferences to receive updates.
To set your preferences, click on your name in Buzz and select Settings from the drop-down menu.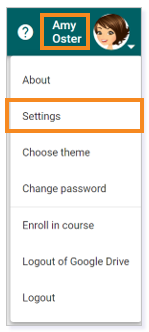 Scroll down until you find Notifications preferences. Verify your email address. You can also add a mobile phone number if you wish.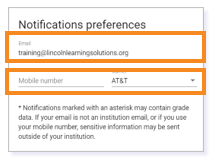 Next, under Observer notifications, select the type(s) of notification(s) you would like to receive. Click the preferred delivery of the notifications and choose how often you want to receive them.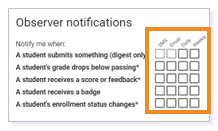 Click SAVE to save your settings.
STUDENT HOME PAGE
Once you have entered Buzz, select the student you want to observe by clicking on the student's name.
You will be directed to that student's Home page. This page contains three tabs. You will see a COURSES tab, a TO-DO LIST tab, and an ACTIVITY STREAM tab. The COURSES tab is the default. This tab displays the Course Card for each course in which the student is enrolled.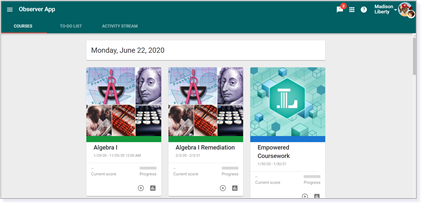 CHANGING STUDENTS
To observe a different student, click the navicon to open the Main Menu.

Next, select the Choose Student option from the top of the Main Menu list. This will bring you back to your Choose Student list, where you can select a different student.

STUDENT TUTORIALS
To learn more about navigating Buzz, please visit the Student Tutorials by selecting the i within a circle in Buzz. The list below provides an overview of the tutorials available.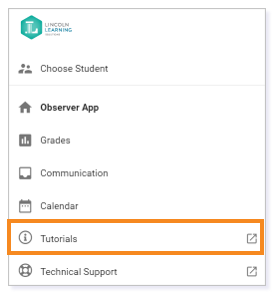 Student Video Tutorials
Please note, the images that may be found in this resource may not match your screen.
This is a Lincoln Learning Solutions product. Access/features may vary based on client contract.
© 2021 Lincoln Learning Solutions. All rights reserved.