This article is designed to help you use Buzz to establish set groups within individual courses.
IMPORTANT: By using this feature, you can add or hide folders, activities, or even assessments from set groups to differentiate learning.
Click the Play button below to view Using Groups Part 1: Creating Groups Video.
Additionally, click the following topics to be taken directly to that information within this article.
WHY CREATE GROUPS?
As a teacher, you may find it useful to organize students into groups. Grouping can help you organize a cooperative learning project or meet a student's need for modifications. Taking the time to create and place students in specific Buzz-based groups is a vital first step to adjusting content and assessments for your students.
Click here to return to the top of the article.
CREATING A GROUP
In Buzz, you can create groups within individual courses. You can create these within the Editor, which is great if you are then going to customize the student experience. You can also create groups within People, which is a quick feature for monitoring student progress and finding common needs.
Creating Groups Within the Editor
Select the Editor for the appropriate course. Next, select the tools icon (wrench) and select Manage groupings. You can create groups here.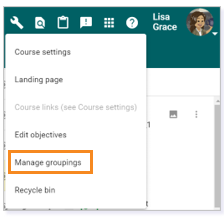 Creating Groups Within People
Begin in the People page within a specific course to access the students in your course.
IMPORTANT: You must be in the People page for an individual course. This action will not work from the Main Menu People option.
Click
here
to return to the top of the article.
ADDING, EDITING, COPYING, OR DELETING A GROUP
Adding a Group

To create a new group, click ADD GROUPING.

NOTE: Each grouping of students is also called a group set.
Editing a Group
Click the group set name to make changes to the group setup, subgroups, and student association.
Copy Grouping
To copy a group setup, select the Copy grouping options to the right of the group set name.
Delete Grouping
To delete an existing group set, select the trashcan icon to the right of the group set name.

Defining a New Group Setup
Select the ADD GROUPING option to open the Generate Groups window.
On this screen, you can identify your group set name, specify the number of groups you want, or select the number of students per group.
You can also select how your groups are assigned.
Click the GENERATE button once you have decided upon the criteria.
You can now edit your groups and assign students to them.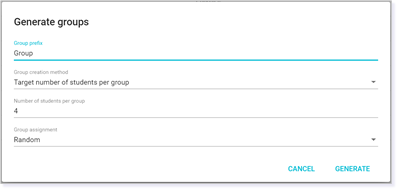 Click
here
to return to the top of the article.
SETTING UP STUDENTS WITHIN A GROUP
After the Generate Groups window closes, your groups setup will appear according to your specifications.
TIP: This is the same screen you see if you edit a group after setup.
Each Person in Only One Group
Notice the Each person in only one group box. Keep this box checked if you intend to have each student assigned to only one group. Uncheck the box and manually click beside the student name to assign him or her to more than one group.

Adding More Groups to a Group Set
To add one or more groups, click the Add Group icon.

Renaming a Group Within a Group Set
To name the groups, click the pencil icon and type in the group name.

WARNING: When you are editing items in the Syllabus, the Filter by Group option shows only Group names. These items are not organized by group sets, which is why naming each group specifically is important. Name groups according to their usage or user.
The Edit groups popup menu allows you to rename your group. You can even delete an existing group by clicking the trashcan icon. Click OK when finished.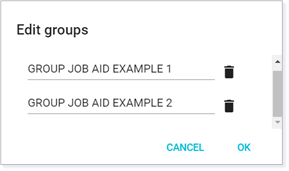 More Group Options
Click the More Groups icon to select Score display options, to Clear all, or to open the Generate groups pop-up window.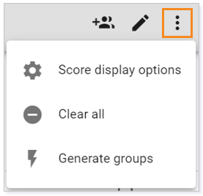 Click SAVE to keep the changes you made.

TIP: If you select SAVE, you will navigate back to the Manage groups screen.
Click
here
to return to the top of the article.
ASSIGNING STUDENTS
To assign students to groups, you must first add a student. To add a student to a group, find the name of the student you wish to add. Decide the group in which you would like to place the student. Then, click on the checkbox next to the student's name.
To remove the student from that group, simply deselect the checkbox.
Clicking the group name sorts your students by group. All students in that group will move to the bottom of the screen.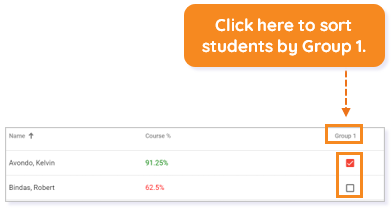 TIP: Click the group name twice to move all students to the top.
Click
here
to return to the top of the article.
ADDITIONAL GROUP SETUP OPTIONS
The following are additional scenarios you may face with Groups:
A Course With No Current Groups

If a course does not have any preexisting groups, you have the option to add a New Group Set. This will successfully add a group set.

NOTE: Once the group is added, you can adjust as necessary.
A Course With Newly Created Groups

For a course with newly created groups, the group information may only show partial group details.

Do not adjust Groups from People. This includes adding, modifying, or deleting groups. You will see the options, but the functionality is limited.
A Course With Existing Groups

For courses that have established groups, you may see the Generate Groups popup window.

Please select Cancel to view and edit your existing groups.
Click
here
to return to the top of the article.
GROUP SETUP SCENARIOS TO CONSIDER
WARNING: Name your group sets and groups according to usage. The more specific the name, the better. You will notice in some screens the group set and in other screens the group names only. If you have a student who falls under multiple modifications, try naming your group according to the modifications (or abbreviations) of those modifications (e.g., "Time Essays 3").
| | |
| --- | --- |
| Groups Per Student | If you have groups for several students in your course, you may want to create a group set called "Students" and name each group according to each student's name. Make sure you assign the appropriate student to each name. This capability allows you to establish specific experiences for each student, but it is not ideal for large classes. |
| Few Students With Modifications | If you have only a handful of students who need specific modifications, try creating a group for each student and applying specific modifications. Again, this is not ideal for large classes. |
| Same Modifications Across Multiple Students: Group Sets with One Group | If you are creating a group to apply modifications, you might organize your modifications by creating a group set containing one group for each modification. |
| Multiple Modifications for a Single Student | If you have a student (or students) who require more than one modification, try creating a group that applies all modifications instead of assigning the student to each individual modification group. This will help you avoid overlap experience. |
Click
here
to return to the top of the article.
ADDITIONAL GROUP RESOURCES
The following are additional resources for Groups:
| | |
| --- | --- |
| Assigning Work by Groups | This article helps you to use Buzz to adjust activity and assessment settings to meet the needs of the students in your groups. |
| Group Filtering | This article helps you to use the filtering options in the four main areas of Buzz. |
Click here to return to the top of the article.
Please note, the images that may be found in this resource may not match your screen.
This is a Lincoln Learning Solutions product. Access/features may vary based on client contract.
© 2022 Lincoln Learning Solutions. All rights reserved.