This article is designed to assist you with setting up and sharing folders with your Google account.
TIP: Click here for additional written directions.
NOTE: To view the above resource in a new window, click here.
TIP: By creating a folder for each course and placing your assignments within that folder, you will stay organized in your course work and will only need to share the folder with your teacher once.
IMPORTANT: If you are enrolled in a course with Lincoln Learning Solutions Teachers, try creating a Lincoln Folder and sharing this folder with studentwork@lincolnlearningsolutions.org. This will ensure all of your teachers have access. Within this folder, you can create subject folders for each of your classes.
NOTE: This is not your teacher's email address. Check your course Landing Page for the correct email address to contact your teacher.
SETTING UP A FOLDER
After you have logged in to your Google account, click the Main Menu waffle icon and select Drive.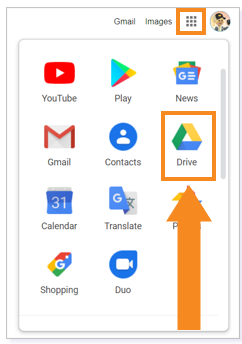 The default setting in Google Drive opens to My Drive. Here, you should create a folder you will share with your teacher.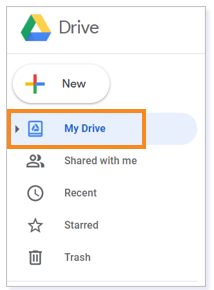 To create a folder, click New.

Then, select Folder.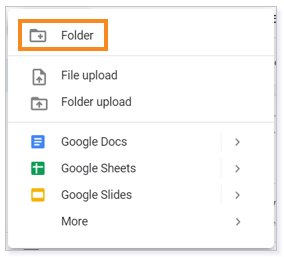 You will be prompted to title your folder. Since you will be sharing this folder with your teacher, remember to add the course name and your name to the folder name (e.g., Algebra I – Ellie Albert). Then, click CREATE.

ADDING CONTENT TO A FOLDER
To add content to a Google Drive folder, double-click the desired folder.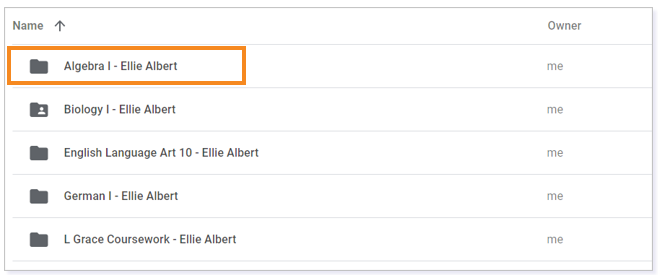 When the folder opens, select New.

Next, choose whether you want to create Google Docs, Google Sheets, or Google Slides.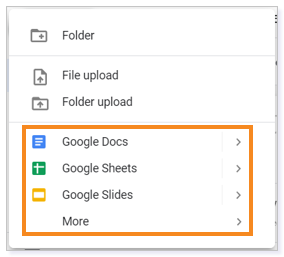 NOTE: Once you have completed your work, you do not need to save it. Your work will save automatically within your selected folder.
SHARING A FOLDER WITH YOUR TEACHER
IMPORTANT: You should share the folder with your teacher (or studentwork@lincolnlearningsolutions.org if using Lincoln Learning Solutions Instructional Services) prior to submitting your work. If you do not share the folder before you submit an assignment to your teacher, they will have to request access to your folder, and you will have to accept the request. This process may delay the feedback and grading of your assignments.
To share a folder with your teacher, find the folder in My Drive. Double-click the folder to open it. You will see the folder name across the top of your page. Click once on the arrow next to the folder.

Choose Share to share your folder.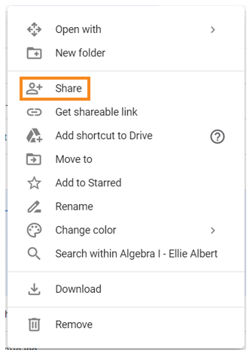 Type in your teacher's email or studentwork@lincolnlearningsolutions.org if using Lincoln Learning Solutions Instructional Services.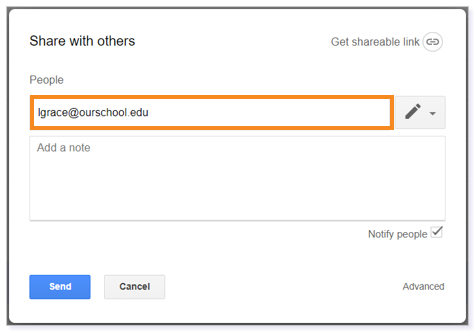 Make sure to choose Editor (allowing your teacher to organize, add, and edit) from the dropdown menu so that your teacher can edit your assignment and provide you with appropriate feedback.
If you do not choose this option, your teacher can only view your assignment.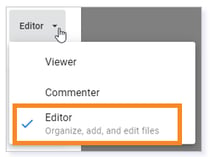 Add a note to your teacher to explain you are sharing the folder. When you have entered all necessary information, click Send.
Your teacher will receive an email stating that you have shared the folder. Now, all the material you add to the shared folder will be visible to your teacher.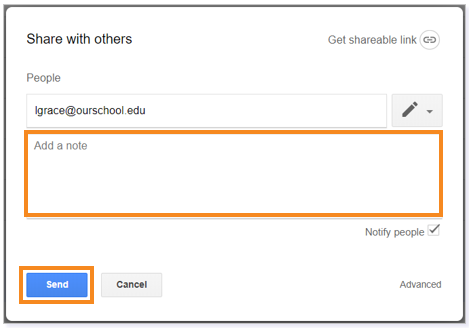 Please note, the images that may be found in this resource may not match your screen.
This is a Lincoln Learning Solutions product. Access/features may vary based on client contract.
© 2021 Lincoln Learning Solutions. All rights reserved.