This article details how to submit an assessment using Google Docs. You can use Google Docs to complete assessments that require a submitted file.
Click the following topic links to navigate directly to that section.
As a student, you will encounter assessments that require you to complete tasks and submit a document or file to be graded by your teacher. When you access these types of assessments, you will see a plus sign instead of a Start button.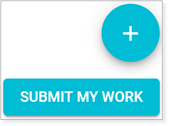 Some of these assessments will contain files that you must use to complete your work. These files may include editable text documents (e.g., Microsoft Word), PDFs, or other file types. Be sure to save them on your computer and add them to your Google Drive when you have finished your work. You may also move these immediately to your Google Drive and work on the documents there until you are ready to submit them.
In addition, you can use Google-based file types such as Google Documents to create work to be submitted.
TIP: Click here for additional written directions.
NOTE: To view the above resource in a new window, click here.
ACCESSING YOUR GOOGLE ACCOUNT
Before you begin, ensure that you are logged into your Google Account. To do this, go to https://www.google.com/.
Click Sign in.

Type in your email and click Next.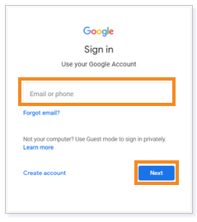 Type your password and click Next.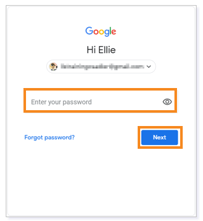 From the top right, select the Main Menu waffle icon. Then, select Drive.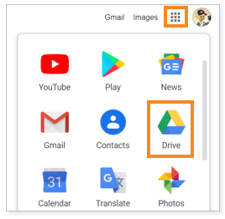 Click
here
to return to the top of the article.
SAVING ASSESSMENT DOCUMENTS DIRECTLY TO GOOGLE DRIVE
If there is a document in the assessment that needs to be downloaded, you can save the document to your Google Drive or to your computer. To save it to your Google Drive, click on the print icon in the bar at the top of the page.
WARNING: In order to download to Google Drive, you may need to install the Save to Google Drive extension to the preferred browser, Google Chrome.

TIP: For Chromebook users, clicking the download icon may automatically upload to Google Drive.
In the drop-down menu next to Destination, choose Save to Google Drive or choose See More... to select Save to Google Drive.
IMPORTANT: Save to Google Drive will be an option in See More... if you have completed the extension install and don't see it as one of the Destination dropdowns.
Click Print (or it may save Save) to upload to your Google Drive.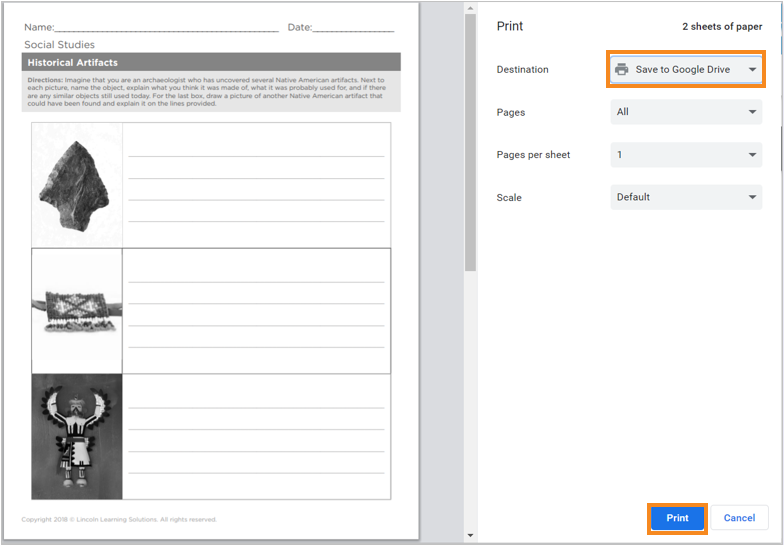 TIP: Remember to drag and drop your file into the correct folder once it is uploaded to Google Drive.
Click
here
to return to the top of the article.
ADDING DOCUMENTS
Converting Documents to Google Docs Editor Format
TIP: Converting all documents at the time of upload will ensure documents are formatted for easy editing.
Click the Gear icon in the top banner.

Click Settings in the drop-down menu.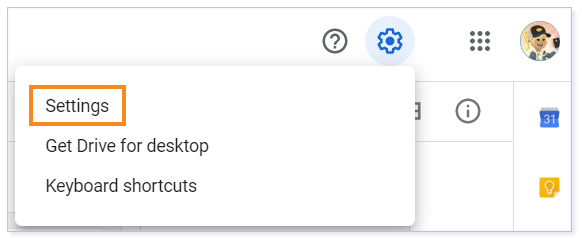 Make sure the checkbox for Convert uploads is checked.
Click DONE when finished to save the settings.

Adding Documents from Your Computer to Google Docs
You can add documents to your Google Drive if you initially downloaded them to your computer. Within Google Drive, select My Drive. Next, double-click on the appropriate course folder.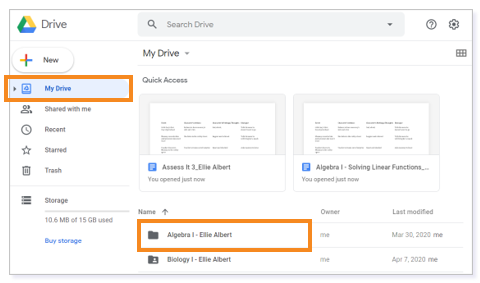 Locate the document's folder on your hard drive and drag and drop your document into your Google Drive folder.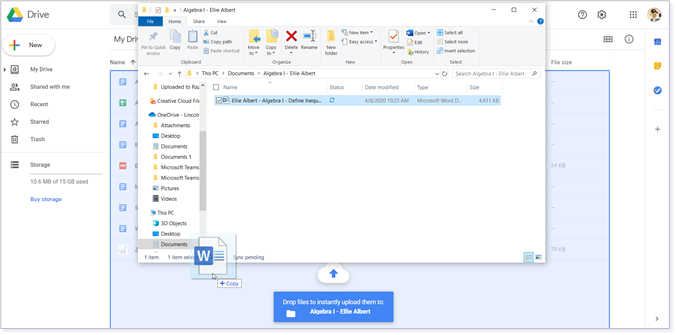 As the document uploads to your Google Drive, you will see a progress window.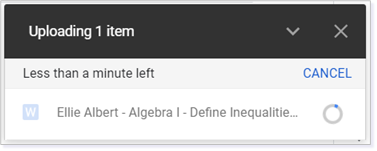 Once the document is uploaded, you will receive an additional notification confirming the action is complete.

NOTE: If you are using a Chromebook, you may have a slightly different experience. Click here for additional help in Google.
Click
here
to return to the top of the article.
SUBMITTING YOUR ASSESSMENT
Once your work is completed and saved within the correct course folder in Google Drive, you can use the Google Docs option within Buzz.
To do this, locate your assessment again within the Activities section of your course. Then, click the plus sign.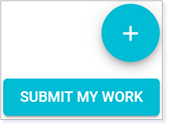 Next, click Choose Google Document from the options.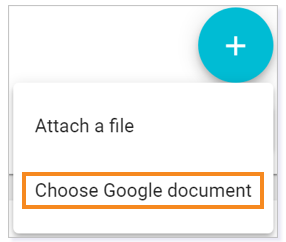 Because you are already logged into your Google Account, your Google Drive options will load.
NOTE: If you are already signed into Google, but have not linked your account to Buzz, you will be prompted to do so now.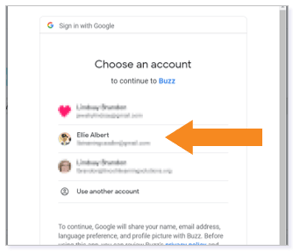 If you have not signed in, you will be asked to sign in before proceeding.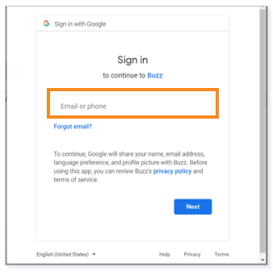 If you saved your document in the appropriate course folder, you may locate it quickly. To do so, navigate to the Folders section.
IMPORTANT: If you are enrolled in a course with Lincoln Learning Solutions Teachers, it is recommended that you create a Lincoln Folder and share this folder with studentwork@lincolnlearningsolutions.org. This will ensure all of your teachers have access. Within this folder, you can create subject folders for each of your classes.
NOTE: This is not your teacher's email address. Check your course Landing Page for the correct email address to contact your teacher.

Next, double-click on the course folder name. Then, double-click on the assessment name.
Your document will populate under the Comments box. Add all desired comments to your teacher. Then, select SUBMIT MY WORK when you are ready to submit your assessment.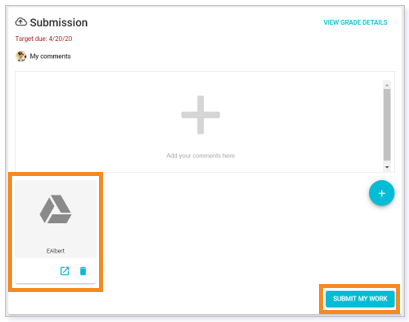 Congratulations! You have now submitted a document from your Google Docs account!
Click
here
to return to the top of the article.
ADDITIONAL SUPPORT
If you need additional support while working within Google Drive, please click on the Question mark icon and select Help.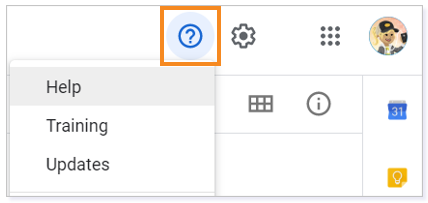 Click here to return to the top of the article.
Please note, the images that may be found in this resource may not match your screen.
This is a Lincoln Learning Solutions product. Access/features may vary based on client contract.
© 2022 Lincoln Learning Solutions. All rights reserved.