This article provides information about Agilix Publish Anywhere and how Lincoln Learning Solutions' course content translates in a variety of Learning Management Systems (LMS).
DEFINITIONS
WHAT IS PUBLISH ANYWHERE?
Agilix Publish Anywhere is powered by Buzz. It allows the delivery of courses and learning content regardless of the chosen LMS. Lincoln Learning Solutions (LLS) utilizes Publish Anywhere to push its custom learning content into a variety of Destination LMSs. All content is delivered via Learning Tools Inoperability (LTI) and Thin Common Cartridge to any compatible system. New digital content can either be authored or imported from another system. Print-based content can also be transitioned to digital materials. Full or partial course set up can be delivered in a few clicks. Students can interact with content without leaving the preferred LMS. Teachers can view content and student submissions right inside their host LMS. They can also grade and provide feedback.
For more information regarding Agilix Publish Anywhere, click here.
WHAT IS BUZZ?
Agilix Buzz is an LMS designed to meet the needs of any school or organization. Offering a personalized educational environment for both students and teachers alike, it provides an instructional atmosphere ideal for both online and blended learning. Various learning models allow teachers to support all students' needs. Buzz is an interactive experience enhanced by LLS' custom curriculum containing learning objects which promote thoughtful learning and personalized teaching. Due to its seamless integration with Publish Anywhere and LLS' custom curriculum, Buzz is LLS' preferred LMS.
For more information regarding Buzz, click here.
WHAT IS A DESTINATION LMS?
The Destination LMS is the location to which the content and assessments are projected from Buzz using Publish Anywhere. Canvas and Schoology are examples of Destination LMSs.
IMPORTANT: When using Publish Anywhere, content originates in Buzz and then is projected into another LMS. Key content features and functionality can be impacted in other LMSs due to this projection.
COMPATIBILITY AND PUBLISH ANYWHERE
Click here for a full chart showing Compatibility and Publish Anywhere. This link provides additional information, but you can find the chart towards the end of this link.
Below is an adapted version of this full chart.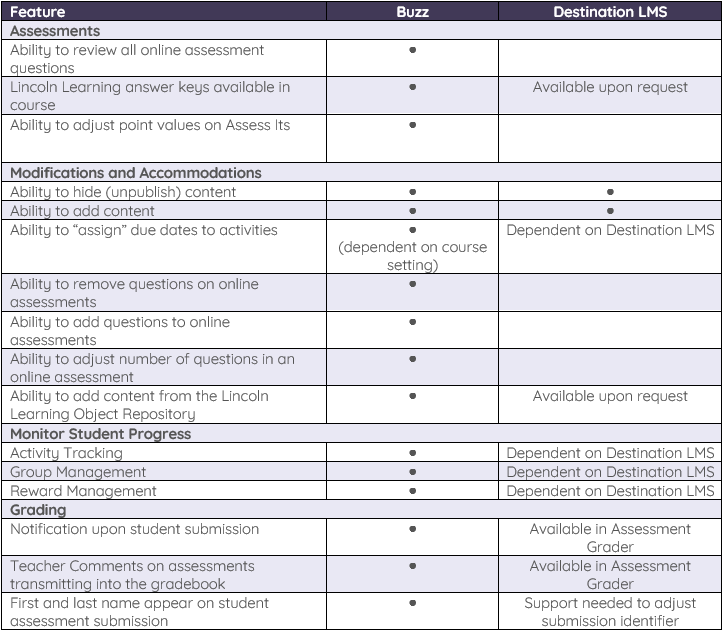 Please note, the images that may be found in this resource may not match your screen.
This is a Lincoln Learning Solutions product. Access/features may vary based on client contract.
© 2021 Lincoln Learning Solutions. All rights reserved.