This resource introduces teachers to the features and functions found within the Report Card tab in Learning Tree.
REPORT CARD TAB
The Report Card tab is the place within your community where you can view students' individual assessment scores, overall percentage, overall Performance Grade Bands, and more.
NOTE: Upon community creation, the Report Card tab is visible by default. You have the option to disable the Report Card tab within the Settings tab if desired. Click here for more information regarding your community tabs.
REPORT CARD FEATURES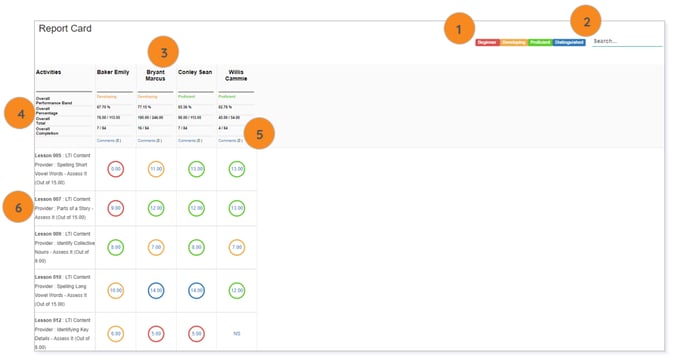 1.
Performance Grade Band Key
– Visual representation of your tenant's customized Performance Grade Band setup.
NOTE: If you are a Lincoln Academy client, your Performance Grade Band Key will be set to the Lincoln Academy default represented in the above image. Click here for more information regarding Performance Grade Bands.
2. Search – Begin to type a student's name to filter down to their individual course report card.
3. Students' Report Cards – Vertical view of each student's report card.
4. Overall Course View – View of the student's Overall Performance Band, Overall Percentage, Overall Total, and Overall Completion.
Overall Performance Band – Visual depiction of student's performance within the course.
Overall Percentage – Student's score depicted in the form of a percentage.
Overall Total – Student's points earned vs. total points possible
Overall Completion – Number of graded activities completed vs. the total amount of graded activities in the course
5. Comments – Leave a comment on an individual report card, such as feedback at the end of a grading period.
6. Graded Activity – List of each graded activity shown with either:
a score and performance band, if graded.
NS for any graded activity which has not been completed by a student or NS for any graded activity which has not been graded by the teacher.
TIP: Click on the graded activity's score to see more information regarding that activity.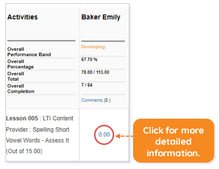 MORE REPORT CARD OPTIONS
To view more report card options, click the More Options icon.

The pop-up menu will populate the following options: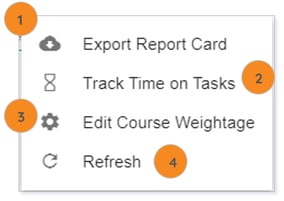 Export Report Card – Export the entire Report Card tab into an Excel spreadsheet.
Track Time on Tasks – Create an Excel spreadsheet of how much time each student spent on an activity within the course content.
Edit Course Weightage – If your admin has set up weightage categories at the tenant level, you can change the weight percentages attached to each category.
IMPORTANT: Lincoln Empowered content is not weighted by default. Lincoln Academy users do not have the ability to edit course weightage.

4. Refresh – Refresh the report card to the default view.
Please note, the images that may be found in this resource may not match your screen.
This is a Lincoln Learning Solutions product. Access/features may vary based on client contract.
© 2023 Lincoln Learning Solutions. All rights reserved.