This article is designed to help you create and edit a course landing page.
The Course Landing Page is the first page you see when you open the course.
CREATING THE PAGE
First, open the course by clicking the Course Card. Then, click ADD LANDING-PAGE CONTENT.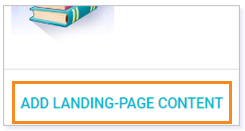 A text box opens, where you can add information. You can type directly in the text box or copy and paste text from another document. Use the text editor functions to change the font, insert images, add bulleted lists, etc.
When you are finished adding content, click SAVE.

EDITING THE PAGE
Once your Landing Page has been created, you can edit the page content by clicking the pencil icon.

Please note, the images that may be found in this resource may not match your screen.
This is a Lincoln Learning Solutions product. Access/features may vary based on client contract.
© 2021 Lincoln Learning Solutions. All rights reserved.