This article is designed to help teachers create a class announcement for their communities.
IMPORTANT: Creating an announcement can only be done within a single community and cannot be applied across multiple communities.
Starting in the community landing page, click on the Announcements tab.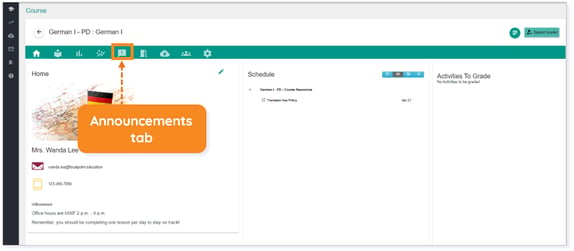 Adding a New Announcement
When you first enter the Announcements tab, the ability to create a new announcement will already be populated.
NOTE: If you are viewing an existing announcement, click Add New Announcement to ensure it populates the details to add a new announcement.

Creating an Announcement
Begin by creating a required announcement Title.

Next, click the Select an event date field and choose a date from the calendar.

IMPORTANT: Event date will determine when the announcement will be seen by the community members in the Day, Week, Month, and/or All sections. If an event date is omitted, the announcement will show in student notifications only.
Click the Select a published date field and choose a date from the calendar.

IMPORTANT: A published date will determine when the student receives the notification. If no published date is chosen, the student will immediately be notified of a new announcement when the announcement is completed and saved.
Adding content in the text box is required to create an announcement.

You can change your font and the layout of your announcement through the Text Editor. Hover over each symbol to learn more about the function. Try adding a hyperlink, image, or file to enhance your communication.

When you are ready, click the save icon to save the announcement.

You will be notified if your announcement was successfully completed or prompted to complete the announcement correctly.

TIP: You can edit an announcement at any time by opening the announcement and making your desired changes. Additionally, clicking the trashcan icon will delete your announcement.
Please note, the images that may be found in this resource may not match your screen.
This is a Lincoln Learning Solutions product. Access/features may vary based on client contract.
© 2023 Lincoln Learning Solutions. All rights reserved.