This resource provides an overview of the teacher Community Landing Page in Learning Tree, including each area and the actions you can take from this page.
The Community Landing Page is the base for your course in Learning Tree. You can access a variety of areas and complete many actions from this page. You can always find your Community Landing Page by clicking the persistent Home tab throughout the platform.

THE COMMUNITY LANDING PAGE
Your Community Landing Page is the gateway to a variety of information and actions you can take within your community.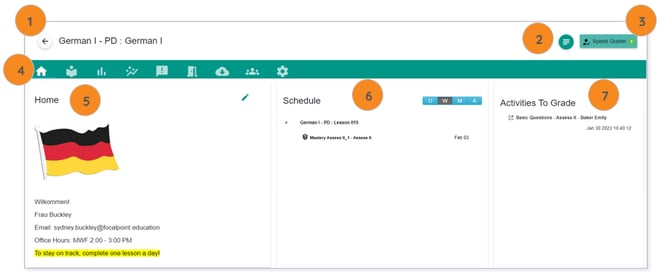 Here are the areas of your Community Landing Page and what actions, if available, you can take within those areas:
1. Community Name: Course Name – The Community Name, which is the same as what is found on the Community Card, is present as well as the Lincoln Learning Empowered Course Name associated with the community.
2. Select Root Goal – Clicking on Select Root Goal will allow you to search for Lincoln Learning Empowered courses that you can associate with the community upon creation.
3. Speed Grader – The Speed Grader allows you to easily access and grade any items needing your scoring and possible feedback within that community.
4. Tabs – The tabs are where you can access the course content, Report Card, Meetings, and more.
5. Community Information – Community Information is where you can write a brief welcome note, place your contact information, or inform your students of community expectations.
6. Schedule – The Schedule is where you will see items upon which you have placed hard due dates. You will see the date the item is due, and you can sort to see the items by Day, Week, Month, or All.
7. Activities to Grade – Similar to the Speed Grader, you can see items needing your attention for the student to receive a score in Activities to Grade. You can see the name of the activity, the student who submitted it, and the date it was submitted. Click on the activity to open and grade it.
Please note, the images that may be found in this resource may not match your screen.
This is a Lincoln Learning Solutions product. Access/features may vary based on client contract.
© 2023 Lincoln Learning Solutions. All rights reserved.